1/1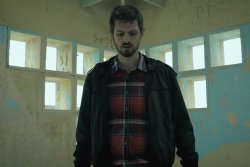 ---
SEA PAVILION
World Premiere
Director: Marysia Makowska & Todd Somodevilla
South Africa, 2012, 10 min
Festival Year:2012
Category:Experimental
Cast:Stefan de Clerk, Colleen van Rensburg
Crew:Cinematographer: Todd Somodevilla - Editor: Todd Somodevilla, Marysia Makowska - Composer: Scott Interrante
Email:todd@tas-dp.com
Synopsis
An innocent picnic turns surreal when curiosity leads to the uncovering of secrets hidden in the decrepit yet beautiful ruins of a seaside pavilion. Filmed in eerie and picturesque Macassar, South Africa, where the dunes have half-buried a once vibrant recreation park, a young couple learn that some dark corners should not be revealed in the light of day.
Trailer
About the director
Marysia Makowska graduated from the Academy of Fine Arts in Warsaw, Poland, where she obtained a BFA in Industrial Design. She has worked as an art director at advertising agencies in Poland, South Africa, and USA. She was also a co-owner of the design studio, "Gogo", in Warsaw, known for it's experimental furniture design. Currently Marysia is collaborating with her husband, Todd Somodevilla, on various film projects, including a short documentary called "Abalimi". During the day she works in an ad agency in Manhattan.
Todd Somodevilla has been a practicing Director of Photography for 15 years. He graduated from the Cinema School at the University of Southern California. He has filmed commercials, feature films, short films, documentaries and music videos. "Sea Pavilion" is his directorial debut, filmed while living in South Africa. He is currently in post production for a short documentary, "Abalimi", that he filmed with his co-director and wife, Marysia Makowska.
Related links