1/1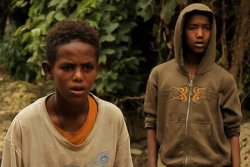 ---
THE HIDDEN SMILE
(El Somriure Amagat)
East Coast Premiere
Spain, 2011, 15 min
Shooting Format:HDCAM
Festival Year:2012
Category:Narrative Short
Crew:Producers: Ventura Durall - Screenwriters: Ventura Durall, Miguel Miguel Llanso - Cinematographer: Mauro Herce - Editor: Ventura Durall, Marti Roca - Composer: Diego Pedragosa
Email:fest@marvinwayne.com
Synopsis
Daniel, a 10-year-old Ethiopian kid, roams the streets of Addis Ababa alone at night. He is one of 170,000 children without family who inhabitate the city. He has just run away from his home on the countryside, where he lived with his stepmother. His biological parents are dead. "The Hidden Smile" constructs a realistic tale based on the values that flourish in a society formed by children.
Trailer
About the director
Barcelona-born Ventura Durall is a scriptwriter, director, and producer. In 2000 he established the production company, Nanouk Films, with the intention of creating an artistic frame of reference in the Catalan and European audiovisual scene and a new canal of communication between documentary and fiction films. Durall is the head of the documentary department at his alma mater, ESCAC (Escola Superior de Cinema i Audiovisuals de Catalunya), where he supervises all diploma thesis projects and leads the Documentary and Society Master Program.
Filmmaker's note
In Addis Abeba, the Ethiopian capital, with a population of 3M people, there are more than 170.000 kids struggling for a life in the streets. But this situation is not specifc to Addis Abeba. In most of the main cities of Africa and the Third World this is sadly common. The kids have been led to the streets due to different reasons. Maybe they already were born in the street, or their parents died, or they left their home's violence or extreme poverty behind. As a matter of fact, these children become sort of non-existing, not appearing in any register, in the best cases reported as "missing". Lost in the streets of the city, they end up creating small communities of kids who struggle for a living begging for money, working as hawkers or perpetrating small criminal acts.
Related links