1/1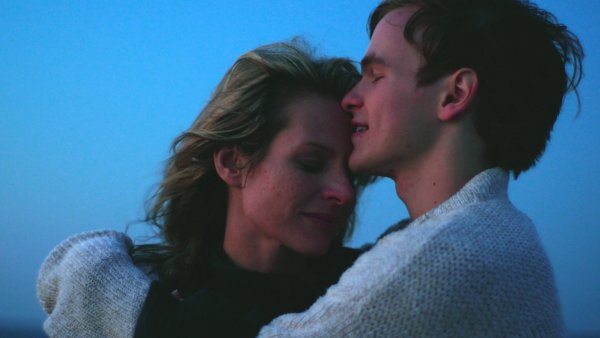 ---
SOMEWHERE SLOW
East Coast Premiere
WINNER: Best Narrative Feature
Cast:Jessalyn Gilsig, Graham Patrick Martin, Robert Forster, Lindsay Crouse, Wallace Langham, David Costabile, Lauren Schneider, Melissa Claire Egan
Crew:Producers: Jeremy O'keefe, Jessalyn Gilsig, Michael Anderson, Christopher Sepulveda - Screenwriters: Jeremy O'keefe - Cinematographer: Justin Talley - Editor: Brian Voelkerding, Tatiana Riegel - Composer: Barry J. Neely
Email:info@logolite-ent.com
Synopsis
Intimate, raw and funny, SOMEWHERE SLOW features a searing and complex portrait of Anna Thompson, a 40 year old skin care rep, coasting through an unfulfilled marriage and an estranged relationship with her family. When Anna gets mixed-up in a deadly convenience store robbery, she makes a split-second decision and walks out of her life and into the unknown. On her travels, she meets Travis, a teenage drifter on his own journey of self-discovery. Together they break into the New England summerhome of Anna's childhood. It is in this quiet house, far away from the world, that both Anna and Travis begin to shed their protective shells, and for the first time, embrace the simple human connection they've spent their lives avoiding. Sparse and provocative, this film shines light on how sometimes we must learn to break our own rules to find the life we've been yearning to live.
Trailer
About the director
A graduate of the University of North Carolina at Chapel Hill and BADA, Jeremy O'Keefe's other works include the feature WRESTLING (2008) and the shorts CLOSURE (2008) and FINALE (2013). SOMEWHERE SLOW was an Official Selection at Cinequest, Omaha Film Festival, Vail Film Festival and the Monadnock International Film Festival. Additionally, Jeremy directed a music video for Marriage Equality for musician Brendan James "Nothin' But Love". Jeremy lives in Los Angeles.
Notes
Director Jeremy O'Keefe will be available for a Q&A after both screenings, and Producer Christopher Sepulveda will be available for Q&A after the June 7 screening.
Related links