1/1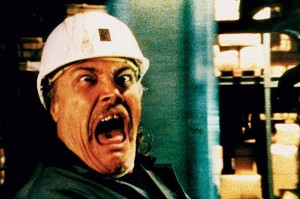 ---
FORKLIFT DRIVER KLAUS - The First Day On The Job
(Staplerfahrer Klaus - Der Erste Arbeitstag)
NY Premiere
Director: Joerg Wagner & Stefan Prehn
Germany, 2001, 10 min
Shooting Format:Super 16
Festival Year:2002
Category:Narrative Short
Cast:Konstantin Graudus - Douglas Welbat - Juergen Kossel - Dieter Dost - Till Huster
Crew:Producer: Michael Sombetzki - Screenwriter: Joerg Wagner, Stefan Prehn - Editor: Andrea Stabenow - Cinematographer: Matthias Lehmann - Original Score: Various Artists - Sound: Ronny Schmidt
Sales:KurzFilmAgentur Hamburg, Germany - T: +49-40-39106318 - F:+49-40-39106320
Email:verleih@shortfilm.com
Synopsis
Klaus has just passed his driving test for forklifts. But his first day on the job turns out to be the real challenge. Cruel but informative accidents happen. Only few survive the blood shed. - A homage to industrial safety educational films.
About the director
Jörg Wagner: Born 1967 in Stuttgart. Studied audiovisual media, worked as a projectionist and directed and presented various live shows. Since 1996 he works for the International Hamburg Shortfilm Festival. Since 1997 he is head of the distribution department of the Hamburg Shortfilm Agency. He organised various shortfilm events (e.g. Trash Nite). Besides his own shortfilms he directed various trailers and spots.
Stefan Prehn: Born 1963 in Bad Schwartau. Studied visual communication at Hochschule für Bildende Kunst in Hamburg. Worked as a camera assistent und operator for various TV-productions. Since 1988 he is a member of the artists group Re-Products and works mainly with found footage.
Related links