1/1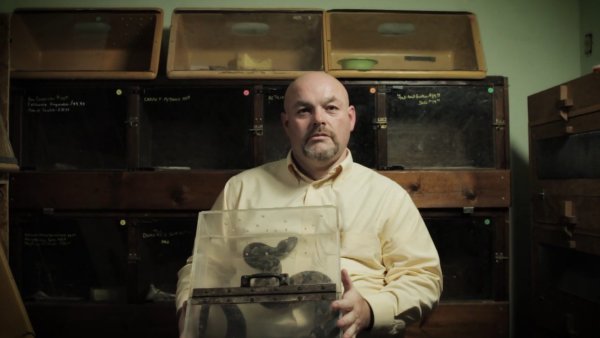 ---
VENOM & FIRE
US Premiere
Crew:Cinematographer: Alex Elkins - Composer: Brandon Faris
Email:bfaris@leapfra.me
Synopsis
Amidst the modernization of a small town in Eastern Kentucky, Pastor Coots and his congregation set aside their iPads, pack their snakes, and head to the Full Gospel Tabernacle in Jesus Name. As the spirit moves people sing, dance, and light themselves on fire. The unmistakable rattle of the Eastern Diamondback looms under the sounds of their unique brand of rockabilly gospel. Like most churches in America they read from the Bible, pray, and take up an offering. Those anointed by the spirit lift up the deadly snakes and proclaim God's victory.
About the director
Brandon Faris believes that "everything is interesting" and longs to tell stories that allow people to experience something for the first time. In addition to his passion for documentary, he is the director for Leapframe digital film and motion design boutique. In 2012 he was awarded Best Director and Best Original Score at the International Doc Challenge in Toronto Canada for his film Venom & Fire. Brandon has also directed music videos for artist including singer-songwriter Dillon Hodges. His video "Bullet for a Broken Heart" which was featured on CMT received Officially Selection at the Chicago International Movie and Music Festival and the Memphis On Location Film Festival. Currently Brandon is in pre-production for a feature length documentary that explores the subculture of mom and pop donut shops titled The Hole Truth.
Notes
Director Brandon Faris and senior motion designer Ryan Woolfolk will be available for a Q&A after the June 7 screening.
Related links