1/1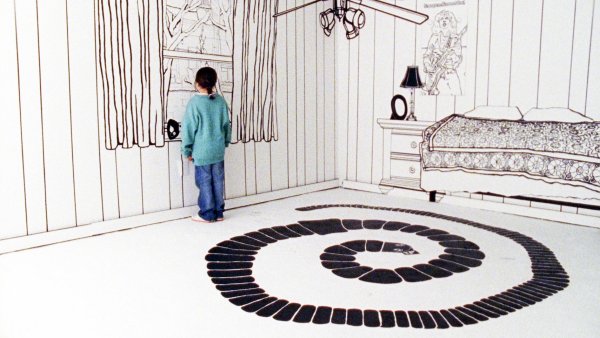 ---
LOVE LETTER
World Premiere
United States, 2012, 14 min
Shooting Format:Super 16
Festival Year:2013
Category:Experimental
Cast:Molly McQuoid, Martina Plag
Crew:Executive Producers: Lindsey Martin & Dan Van Wert - Screenwriters: Lindsey Martin - Cinematographer: Bruce James - Editor: Lindsey Martin - Sound Design: David Miranda Hardy - Art Direction: Margaret Rolicki
Email:lindseymart@gmail.com
Synopsis
Love Letter examines the fantasies of Basil, an eight-year-old coping with emotional anxieties triggered by the divorce of her parents. Basil's uncertainty brings about an imaginary friend, an earthworm hibernating in a jar upon the windowsill. Basil develops her own methods of self-soothing and in the process, stumbles upon a box of her Mother's old love letters. In response to her transforming family structure, Basil develops a symbiotic relationship with the co-dependent worm, enabling her to interpret a letter from her father to her mother. This boggling consultation is constantly interrupted by changing formal strategies of puppetry, animation, magical realism, sound and the inability to regain the notion of love within her familial system.
Trailer
About the director
Lindsey Martin is a film and video maker from Virginia's Blue Ridge Mountains. She received a B.F.A. in Photography and Film from Virginia Commonwealth University and an M.F.A. from Temple University in Philadelphia. Through hybrid narrative structures, home movie, animation and other traditional and non-traditional techniques her work depicts the restructured American family, identity, body image and concepts of wilderness. Lindsey has screened nationally and internationally including the Philadelphia Institute of Contemporary Art, San Francisco DocFest, Athens International Film and Video Festival, Brooklyn Film Festival and the Nomad Project at the Access and Paradox Open Art Fair in Paris, France. Her film Every Speed won the Premio Asolo Award for Best Film on Architecture at the Asolo Art Film Festival. She has also screened at various conferences and symposiums around the U.S. and is currently based in Philadelphia.
Notes
Director Lindsey Martin will be available for a Q&A after the June 4th screening.
Related links