1/1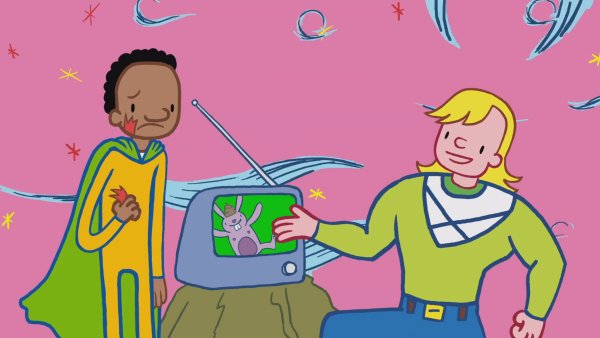 ---
SUPERF*CKERS: BURGER BROTHERS
East Coast Premiere
United States, 2012, 4 min
Festival Year:2013
Category:Animation
Crew:Executive Producers: Fred Seibert - Producers: Fran Krause, Eric Homan, Kevin Kolde - Screenwriters: James Kochalka - Editor: Andy Tauke - Composer: James Kochalka, Anthony Davis, Dustin Pilkington
Email:chris@frederator.com
Synopsis
SuperF*ckers is a parody, farce, and homage to modern superhero comics, and depicts what teenagers with super abilities would actually do with their special gifts. SuperF*ckers follows a team of super-powered teens who use their powers to get high, play pranks, and fight everyone except the bad guys.
Trailer
About the director
Fran Krause was born in Utica, New York. In 1999, while earning a masters at the Rhode Island School of Design, he made the award-winning Mister Smile. After graduating, he started working at Nickelodeon on Blue's Clues. Living for ten years in New York, he worked as a freelance animator, animating for Saturday Night Live, and working on projects such as Little Einsteins and SuperJail!. Collaborating with his brother Will, he made two pilots for Cartoon Network: Utica Cartoon and The Upstate Four. His recent films include Nosy Bear, Dog in Burning Building, and Moonraker. He is the director and show-runner for the animated series SuperF*ckers. He currently lives in Los Angeles, where he teaches in the Character Animation Program at the California Institute of the Arts.
Filmmaker's note
In 'Burger Brothers,' team leader Super Dan is trapped in Dimension Zero without food, reception, and any hope of returning home. Meanwhile, back at the SuperF*ckers clubhouse, a new challenge faces Jack Krak and Ultra Richard's friendship. SuperF*ckers consists of twelve 5-minute episodes and launched on November 30, 2012; 'Burger Brothers' premiered on YouTube on December 21, 2012. Based on the comic series by James Kochalka, who is responsible for the webcomic diary American Elf, the series is written by Kochalka, and directed by Fran Krause, who is known for his work on the hit Adult Swim show, Superjail! and his animated short 'Nosy Bear.' SuperF*ckers is produced by Frederator Studios for the Internet as part of YouTube's funded channel program. The series streams exclusively on Cartoon Hangover Uncensored, the home for cartoons that are too weird, wild, and crazy for television.
Related links