1/1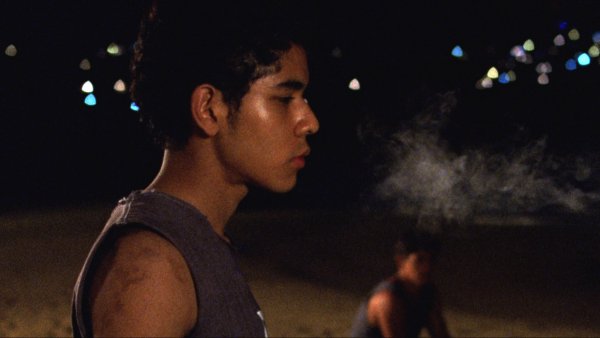 ---
SCOUNDRELS
(RATITAS)
US Premiere
Director: David Figueroa García
Mexico, 2012, 16 min
Shooting Format:Super 16
Festival Year:2013
Category:Narrative Short
WINNER: Best Narrative Short
Cast:Kristyan Ferrer, Jorge Adrían Espíndola, Gustavo Sánchez Parra, Noé Hernández, Ariel Santayo, Jose Alberto Bucio, Aileen Yañez, Carlos Macias
Crew:Producers: Juan Aura, Gerry Kim, David Figueroa García - Screenwriters: David Figueroa García, Mauricio Leiva Cock - Cinematographer: Pedro Gomez Millán - Editor: David Gutnik
Email:david@fideliofilms.com
Synopsis
Acapulco, Mexico. Paco and Memo, two brothers, break into an empty house with a group of friends but instead of finding a night of fun and debauchery they were looking for, they stumble upon a home owned by enforcers of a crime organization and their bond is quickly put to test.
Trailer
About the director
David Figueroa García is a writer-director from Mexico City. His first memory is that of the building next door collapsing outside his window during the earthquake in 1985. He's been able to see the beauty in chaos ever since. He graduated from Mexican National Polytechnic in Computer science and later from the City University of New York in Classic Literature and Film production. Currently, David is in his final year at Columbia University's Film M.F.A program in directing. His work has received awards from the Academy, Directors Guild of America, the National Board of Review, IFP, HSF McNamara Grant for the arts among others, and screened in festivals around the world. A member of Fidelio Films, he's based in New York and Mexico City.
Filmmaker's note
This project came to be because of a news report on a french news agency about a video on youtube, in which a group of teenagers were made to confess petty crimes and then they were physically and psychologically abused on camera for them. Then, we took this incident and constructed a story around it. We found the story was a way to explore dynamics of power between friends, family and ultimately in a society plagued by violent behavior where only the strong one survives.
Notes
Director David Figueroa García and writer Mauricio Leiva Cock will be available for a Q&A after the screening.
Related links