1/1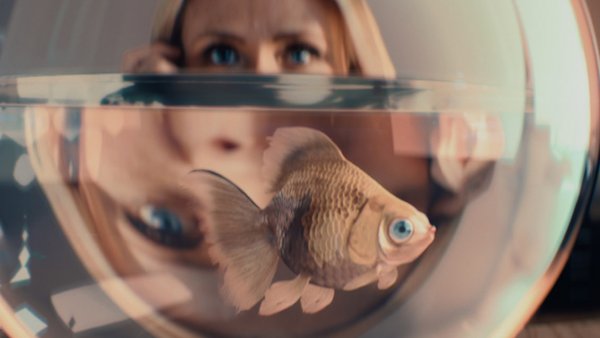 ---
BLUE-EYED ME
US Premiere
England, 2014, 7 min
Shooting Format:Digital
Festival Year:2015
Category:Narrative Short
Cast:Sabine Crossen, Jim Liu
Crew:VFX, cinematographer, editor: Alexey Marfin - Composer: Jonathan Gales - Production sound mixer: Don Nelson - Production sound mixer: Grant Studart - Assistant director: Chapman Kan - Assistant camera: Harry Kay - Steadicam: Richard John Seymour - Hair and makeup artist: Lee Moore - Chinese translation: Zhan Wang
Email:alexey.marfin@gmail.com
Synopsis
In 2001 the cost of sequencing a single genome was a billion dollars. In 2014, it was a thousand. By 2020 it has dropped to 99 cents. This is the world of the 99-cent lifeform. Like a social media profile or an online shopping list tailored to our hobbies, we collect genetically modified pets, engineered to look like their owners. You are not unique; this is the post-personal economy.
Trailer
About the director
Alexey Marfin is a London-based filmmaker and director working with film, visual effects, and animation. He has an academic background in architecture and a professional background in VFX. Alexey's interests are cinematic storytelling and speculative world-building; using imaginary narratives and fictional scenarios as analogies for talking about our present world.
Filmmaker's note
The film is an allegorical and metaphorical story, talking about online identity and personal data brokers. It looks at the meeting point of two worlds: Firstly, online profile culture that feeds on people's narcissism - a culture where people love themselves and create online profiles to share this 'perfect image' of themselves with the world. Secondly, data-brokers buy hoards of this personal data; categorizing, manipulating, and trading it - commodifying you and your lifestyle. In 2014, your medical details, for example, are worth around $0.25, whereas your shopping details are only $0.001. In total, a person is worth around $1. It's a film about the post-personal economy of the 21st century - where you are the commodity. Everything you are and everything you do is monetized and given value. Nothing is unique.
Related links