Latest News: BORROWED TIME wins 2017 Oscar nomination in the Best Animated Short Film category!
1/1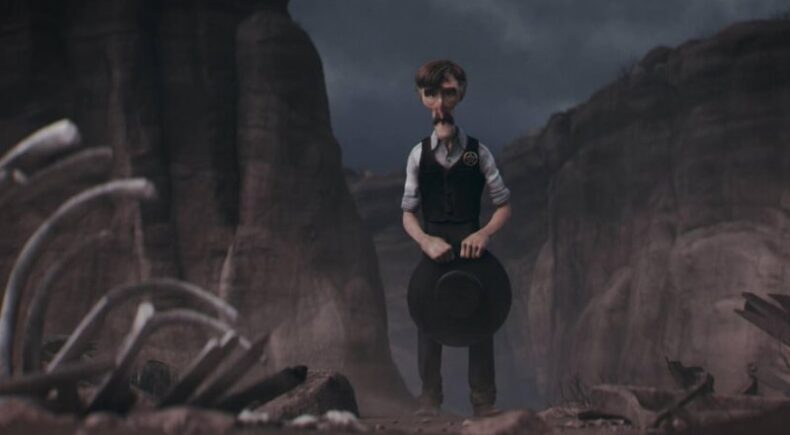 ---
BORROWED TIME
NY Premiere
Director: Lou Hamou-Lhadj & Andrew Coats
United States, 2015, 7 min
Festival Year:2016
Category:Animation
Crew:Producers: Amanda Deering Jones - Screenwriters: Andrew Coats, Lou Hamou-Lhadj, Mark C. Harris - Editor: Kathy Toon - Composer: Gustavo Santaolalla
Email:borrowedtimeshort@gmail.com
Synopsis
A weathered Sheriff returns to the remains of an accident he has spent a lifetime trying to forget. With each step forward, the memories come flooding back. Faced with his mistake once again, he must find the strength to carry on.
Trailer
About the director
Born in Peru of Colombian and Scottish parents, Andrew Coats grew up around the world before settling in the US at the age of 16. Meanwhile, Lou's childhood took root in the culturally rich suburbs of exotic southern New Jersey. Despite their disparate upbringings, their shared passions for fine arts and film led both Andrew and Lou to study Film at NYU's Tisch School of the Arts. It was here that they first met, and learned they could combine those passions into the most rewarding of art forms: animation. Kindred spirits in their love for bringing things to life one frame at a time, they both worked on each others shorts during school, and vowed to someday make a film together when the time was right. Lou Hamou-Lhadj enjoyed the next 8 years at Pixar as a Character Artist on WALL•E, Toy Story 3, Partly Cloudy, Day & Night, Brave, Toy Story That Time Forgot, and The Good Dinosaur. For the first 3 years, he and Andrew stayed in close contact while Andrew rose through the ranks at Blue Sky Studios, animating on Horton Hears a Who, Ice Age: Dawn of the Dinosaurs and finally serving as a Character Lead on Rio. Andrew then joined Pixar in 2010 where he has animated on Cars 2, Brave, Toy Story OF TERROR!, Inside Out and The Good Dinosaur. Reuniting at Pixar rekindled the spark to create something together. During their spare time over the past 5 years they have been learning, growing, failing, picking each other up and ultimately crafting their directorial debut, BORROWED TIME.
Filmmaker's note
In America, animation has largely become synonymous with "kids' films," whereas elsewhere around the world it is celebrated as a medium that can be used to tell any story. We feel this cultural difference limits the potential audience and range of themes in American animation, and is a large part of why we chose to make Borrowed Time. Having worked on family films with a lot of heart and comedy, we wanted to do something outside of our comfort zone: a serious, action drama. We knew this would be a huge challenge for us. In order for the audience to truly connect and care about our characters in 6 minutes, we would need to steer away from the outlandish or oversimplified. We wanted to create an experience that is grounded and relatable. This was the vision that drove the look, animation style and story of Borrowed Time. As first time directors, there was much to learn over the course of this production. We began with naïve optimism, thinking we could handle much of the work ourselves. We poured over it through nights and weekends: writing, storyboarding, designing, modeling, rigging, and animating most of the film on our own. But 2+ years later, and with limited knowledge of the rest of the pipeline, the enormity of the remaining work began to seep in. It was serendipitous, however, that our passion and resolve to finish garnered the attention of those around us. All of a sudden our friends and colleagues were offering to help after hours, many of whom quickly came to have an equal measure of pride in what was being accomplished. There was never a day when we could simply "direct," but having the opportunity to form this small community of artists who push each other was one of the most rewarding experiences of our lives. We're beyond grateful to all of our friends without whose passion and dedication Borrowed Time would not exist.
Notes
Director Andrew Coats will be available for Q&A following the June 8 screening at Windmill Studios.Director and Writer Lou Hamou-Lhadj will be available for Q&A following the June 12 screening at Windmill Studios.
Related links