Latest News: NOTE: The June 11 screening will be followed by the PANEL DISCUSSION: "What's at Stake in a Rapidly Changing Cuba". Panelists: Ted Henken / Former President of the Association for the Study of the Cuban Economy (ASCE), Associate Professor of Sociology and Latin American Studies at Baruch College, City University of New York - Charles Bittner / Academic Liaison at The Nation - Art Jones / Writer, Director, Producer - Raphael Duvernay / Co-Director of Photography, Producer - Joe Foley / Co-Director of Photography, Producer
1/1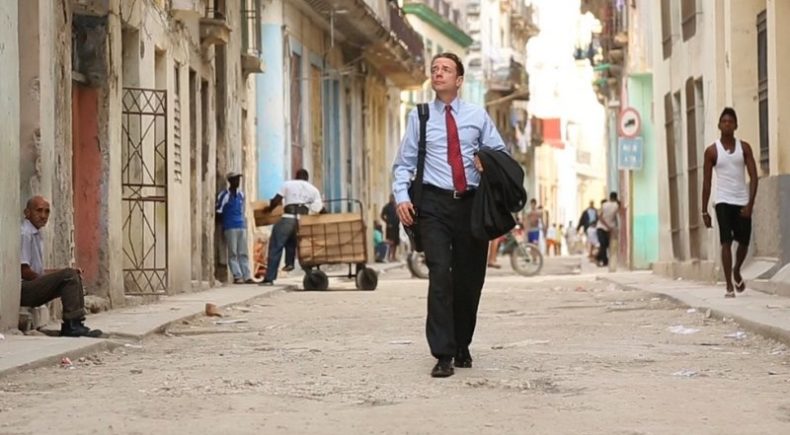 ---
FORBIDDEN CUBA
World Premiere
United States, 2016, 80 min
Shooting Format:2K
Festival Year:2016
Category:Narrative Feature
Cast:Art Jones, Matthew Gordon, Joe Watson, Idalmis Garcia, Jenniffer Turpeau, Berrardo Cubria, Rafael Garcia, Joe Menino, Craig Smith, Danny Pollack, Corentin Vincon, Raphael Duvernay, Joe Foley, Nico Dancona, Edison Jones
Crew:Producers: Art Jones, Raphael Duvernay, Corentin Vinçon, Joe Foley - Screenwriter: Art Jones - Cinematographers: Raphael Duvernay, Joe Foley, Benjamin S. Wolf - Sound: Corentin Vinçon - Editor: Noah Wehle - Composer: Samir Dib
Email:ajones@great-jones.com
Synopsis
"Forbidden Cuba" is a dramatic comedy. It follows Gil Bigelow, an American businessman sent on a covert mission to Cuba to find an executive gone rogue and plant the seeds for future business expansion. On arrival, Gil quickly gets swallowed in the unknowns of Havana. Traveling deeper into the island, he's stripped of his routines, gadgets and bearings, and finds his eyes opened to the beauty and vibrant culture of Cuba - challenging his corporate directives, his identity and everything he's known. Without permits, permission or a Plan B, "Forbidden Cuba" was filmed guerilla-style on location to reveal a nation on the verge of dramatic change. Colliding narrative storytelling with documentary filmmaking, it's both a cautionary tale of an American conquistador in Cuba and the first American feature filmed on the island since the revolution of 1959.
Trailer
About the director
Art Jones heads Great Jones Productions, making films that move people and make change. As writer and director, Art fuses filmmaking with grassroots community-building to spur wider reach and social action. His narrative films, "Dodgeball," "Going Nomad" and "Lustre" have played on HBO, PBS and in theaters across the U.S. and Europe. His documentary, "The Blood in this Town," focuses on a struggling blue-collar town in Vermont that rallies to revive and rebuild itself. Art is a native New Yorker and Brown graduate who lives in Brooklyn and serves as Adjunct Professor of Film at Hunter College. He has been nominated for the John Cassavetes Award at the Independent Spirit Awards / Los Angeles. His narrative project, "Forbidden Cuba" - the first American feature filmed in Cuba since 1959 - has been the most challenging he's ever attempted; he has both the scars and inner joy to prove it.
Filmmaker's note
This may be the last chance to see Cuba before it all changes. Back in 2012, on the day Hurricane Sandy roared into New York, our team battled the elements for hundreds of miles to find an open airport. Defying rules and reason, we landed in Havana to shoot for three intense weeks across the island without permits or permission. We believe it's guerilla filmmaking that would make Che proud … A five-person crew that withstood 11 hours of interrogation … A custom-engineered baseball cap, concealing a sound recorder, mixer and wireless receivers ... 3,000 photos of exotic birds to support our claim that we were documenting the birds of Cuba... Shredded scripts, distributed across the dumpsters of Havana … Predicting the coming tidal wave of American businessmen and dollars … Completed, against all odds, to open eyes, break down walls and reveal the truth of a rapidly changing Cuba.
Notes
Join Cast and Crew of FORBIDDEN CUBA for a PANEL DISCUSSION / Q&A following the June 7 screening at Windmill Studios:"Filmmaking as an Adventure & The Making of FORBIDDEN CUBA"with:Writer/Director and Producer Art Jones Co-Director of Photography and Producer Raphael Duvernay Co-Director of Photography Joe Foley Join Cast and Crew of FORBIDDEN CUBA for a PANEL DISCUSSION / Q&A following the June 11 screening at Windmill Studios:"What's at Stake in a Rapidly Changing Cuba"with:Writer/Director and Producer Art JonesCo-Director of Photography and ProducerRaphael Duvernay Co-Director of Photography Joe Foleywith guests:Ted Henken, Former President of the Association for the Study of the Cuban Economy (ASCE), Associate Professor of Sociology and Latin American Studies at Baruch College at the City University of New YorkCharles Bittner, Academic Liaison at The Nation
Related links