1/1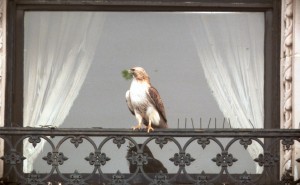 ---
PALE MALE
East Coast Premiere
Director: Frederic Lilien
United States, 2002, 54 min
Shooting Format:MiniDV
Festival Year:2002
Category:Documentary Feature
Cast:Marie Winn, Charles Kennedy
Crew:Producer, Cinematographer, Editor: Frederic Lilien - Screenwriter: Janet Hess - Original Score: Lenny Williams - Sound: 701 Sound - Voice Over: Joanne Woodward - (image above by: Lincoln Karim)
Sales:Linda Ekizian c/o Devillier Donegan Enterprises - T:202 686 3980 - F: 202 686 3999
Email:flilien@hotmail.com
Synopsis
In the heart of New York's Central Park, a bold and daring red-tailed hawk has taken up residence. Affectionately known to New Yorkers as Pale Male, the hawk lives and hunts amidst the skyscrapers of Manhattan, attracting the attention of curious onlookers and inspiring devoted fans. As this great predator courts a mate, breeds, and teaches its offspring to fly, it reminds us all of our magical relationship with nature.
About the director
At the age of 23, Frederic Lilien leaves his native country of Belgium for New York City. Inspired to become a documentary filmmaker, he produces a first short piece on his favorite place in the Big Apple: Central Park. As a freelance cameraman, he works for the Emmy-award winning series "Taxicab Confessions". Then teaming with a French journalist, he produces a series of news magazine reportage for French TV ( TF1, France2, Canal+, Arte ) on social and cultural issues in the US. Travelling intensively around the country he will nevertheless always come back to Central Park for filming the place he loves the most. Over the years, he will film and edit several nature documentaries on the park ("Birds and Birders" for the American Museum of Natural History, "Wild City" hosted by Isabella Rossellini for TBS) and provide archive footage for networks around the world ("Nature"-WNET, "The Animal Zone"-BBC). But among all those projects, the one he wanted to do the most was to capture the extraordinary story of a red-tailed hawk called "Pale Male". Filmed over a six years period, " Pale Male" demonstrates how nature is a part of each and every one of us.
"In 2001, Frederic sent a rough-cut of "Pale Male" to Nora Ephron. He was hired on the spot to capture footage of Pale Male for her upcoming movie inspired by the story of this extraordinary bird. Frederic Lilien is presently working on a new project focusing on international nature conservation organizations."
Related links