1/1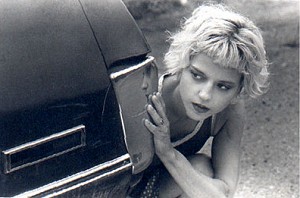 ---
SO FARAWAY AND BLUE
US Premiere
Canada, 2001, 78 min
Shooting Format:Super 16
Festival Year:2002
Category:Narrative Feature
Cast:Nicole Eliopoulos, Daniel Giverin, Julie Menard, Bradley Moss
Crew:Producer, Screenwriter: Roy Cross - Cinematographer: Michael Wees - Editor: Sophia Southam - Music: Jacke Gallant - Sound: Philip Hawes, Roy Cross - Production: Flatland Films
Sales:Ubavka Ferzanovic c/o Cinema Libre, 460 Ste-Catherine West, Suite 500, Montreal, Quebec, H3B 1A7 - T: (514) 861-9030 - F: (514) 861-3634
Email:ubavka@cinemalibre.com
Synopsis
"I'm looking for a man, or should I say a ghost? Because when someone walks away, turns the corner and disappears... do they still exist? Can they ever be found? Do they ever come back?"
Julie, a Montréal teenager who lives alone in a vacant swimming pool spends her days following strangers. Abandoned by her father, she searches for the meaning of courage, love and desire in her observation of others. A longing for her father leads her to Hank, a lost guy from Alberta, who is seeking Veronique, an ex-lover he ditched one night in Mexico. Intrigued by Hank's obsession and the possibility of finding her father; Julie helps Hank in his quest.
About the director
Roy hails from Yorkton, Saskatchewan, where he grew up snacking on the luminescent morsels of that city's film festival and sipping sweet, sorrowful Springsteen tunes. He has been writing, producing and directing short films for the past 13 years. Roy recently received his Master's degree in Cinema from Concordia University. So Faraway and Blue is his first feature.
Related links