1/1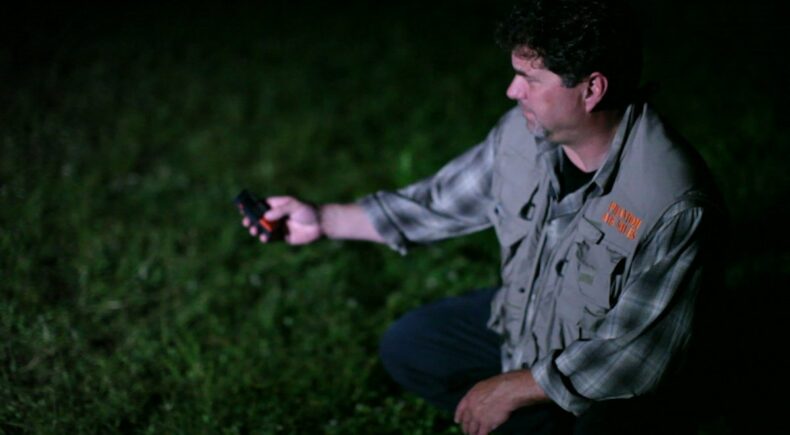 ---
EVERY GHOST HAS AN ORCHESTRA
East Coast Premiere
Director: Shayna Connelly
United States, 2017, 7 min
Shooting Format:Digital
Festival Year:2017
Category:Documentary Short
Cast:Michael Esposito
Crew:Producers: Sharon Mooney - Screenwriters: Shayna Connelly - Editor: Justine Burchall - Director of Photography: Seth Ekberg - Sound Design and Mix: Travis Duffield
Email:shaynacon@gmail.com
Synopsis
Truth hides in the margins and the artist's role is to point to it. The question of what happens after we die is a universal question that paranormal researcher and experimental composer Michael Esposito explores. He straddles the line between spiritual and material and asks the audience to reflect on our purpose, legacy and what our actions say about who we are. Musicians and filmmakers communicate to an audience, but for whom do our ghosts sing?
About the director
Shayna Connelly's work explores hauntings, liminality and the boundaries between documentary, experimental and fiction filmmaking. Her early work screened at Heaven Gallery, The Milwaukee Art Museum and the Contemporary Art Museum in St. Louis. Her most recent work has screened at IC Docs, CIMMfest, Reel Shorts, Big Muddy Film Festival, Columbus International Film Festival, Charlotte International Film Festival, Ann Arbor Film Festival and Athens International Film and Video Festival among others. She is in post-production for a ghost story, 'Quiver', shot in December, 2017 and slated for release in fall. New City Magazine named her one of Chicago's 50 Screen Gems of 2016.
Filmmaker's note
In 2013 my husband Chris Connelly (Ministry, Revolting Cocks) recorded vocals for experimental composer Michael Esposito. In talking to me about Michael's work, Chris used the terms 'paranormal researcher' and 'composer' interchangeably, which piqued my interest. Ghosts and ghost stories fascinated me as a kid. And this ghost-lover grew up to be a record collector – the obsessions linked by mystery and a sense of awe of something greater than myself. It wasn't until I started talking to Michael that this connection became apparent. What makes him stand apart from other paranormal researchers is that he goes beyond trying to gather proof of an afterlife and integrates his EVP findings into art. Research into physics, principles of recording and communication theory is also crucial to his process but his creative work communicates a fundamental truth about life and creativity that is difficult to express through words. In terms of process I identify with Michael's struggle between the ethereal and concrete. At the time I was interviewing him I was haunted by the death of two close friends, the impact of which I was exploring in other films ('Gardening At Night' and 'Yours Is Not the Taj Mahal'). My work has always existed along the boundaries of experimental, fiction and documentary. To me truth exists at the margins, where edges blur and converge and where ambiguity reigns. Truth is elusive. Truth and belief are also often mixed together but as the Dadaists showed, collisions arising from 'accidental context' cause the truth to emerge. This is the idea underscoring 'Every Ghost Has An Orchestra'.
Related links