1/1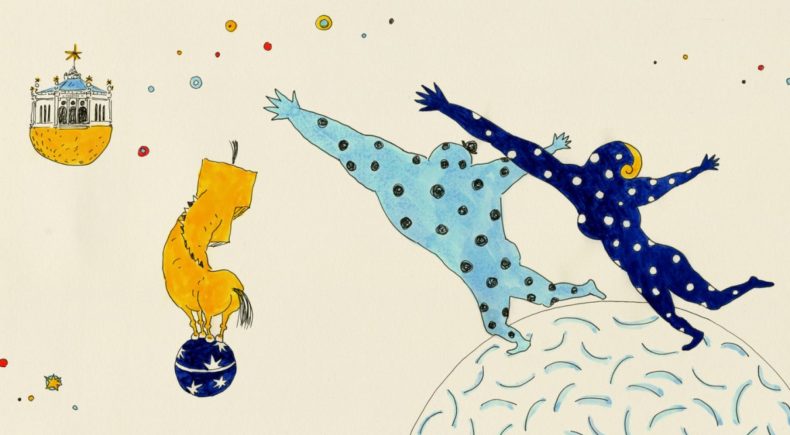 ---
SATIE'S PARADE
Japan, 2016, 14 min
Shooting Format:Digital
Festival Year:2017
Category:Animation
Crew:Producers: Koji Yamamura - Screenwriters: Koji Yamamura - Music: Erik Satie - Music performer: Willem Breuker Kollektief - text: Erik Satie
Email:koji@yamamura-animation.jp
Synopsis
A Parade for 3 managers & 4 performers. Mixing quotes from French composer Erik Satie's essays with the music Parade, this is an animated re-creation of realist ballet images going beyond reality.
Trailer
About the director
Koji Yamamura, born on 1964 in Japan. He graduated from Tokyo Zokei University in 1987. In 1993, he founded Yamamura Animation, Inc. Mt. Head (02) was nominated for an OscarⓇ in 2003, and awarded the 6 Grand Prix include Annecy 03, Zagreb 04 and Hiroshima 04. Franz Kafka's A Country Doctor (07) awarded the Grand Prix at Ottawa. He is also an illustrator and several picture books are published. He is currently a sub-chairman of the Japan Animation Association (JAA) and a member of the board of directors of the Japanese branch of the International Animated Film Association (ASIFA). A visiting professor of Tokyo Zokei University and a professor of department of Animation, Graduate School of Film and New Media, Tokyo University of the Arts.
Filmmaker's note
Since my twenties, I haven been familiar with Satie's work thanks to music CDs. Most notably, I was mesmerized by the Dutch jazz musician Willem Breuker's interpretation of Parade. While hearing his version of the piece, I started to daydream about the ballet's visual image, and that became the direct motivation for doing this film. Later, I got my hands on a catalogue of Satie's exhibition in Japan in 2000, and from the design drawings, stills, documents, and sketches of the Parade printed there, my visualization became bigger and bigger. Again, thanks to that catalogue, I found out that in his final year's, Satie didn't allowed anyone to come inside his home and, unnoticed by all, spent days doing sketches of imaginary places and stores on thousands cards. Such lonely sunset years made me interested in his personality. At that point, I got the idea of mixing elements of his autobiography with the animated view of Parade. Satie's art and behavior are ahead of Surrealism and Dadaism, I recognize him as pioneer from the transition stage between modern and contemporary art. His Parade emulates cinema, inserts jazz and popular songs, makes use of noise, and has a full contemporary essence. I hope that my animation triggers a review of the concept we have of contemporary art. With the combination of text and collage, made of flatten picture planes and fragmentary images, this animation is seeking to achieve a unique visual language.
Related links