1/1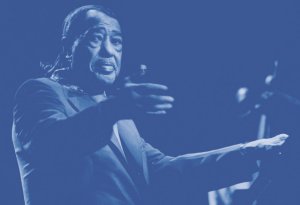 ---
DUKE ELLINGTON: MEMORIES OF DUKE
(special event - out of competition)
United States, 1980, 81 min
Shooting Format:16mm
Festival Year:2003
Category:Documentary Feature
Cast:Duke Ellington, Russell Procope, Cootie Williams, Paul Gonsalves, Jeff Castleman, Lawrence Brown, Harold Ashley, Johnny Hodges, Trish Turner, Harry Carney
Sales:Movies Unlimited, Music Video Distributors, Rhapsody Films, Inc., WEA.
Synopsis
Shot in 1968 this footage includes the previously unreleased "Mexican Suite" plus all the Ellington classics including "Satin Doll," "Mood Indigo," "Black and Tan Fantasy," and "Take the A Train" plus interviews with band members, film sequences which featured Ellington and his band and other exclusive footage.
About the director
Between September 23 and 29, 1968 Duke Ellington and his Orchestra toured Mexico. Gary Keys filmed Ellington in concert all through that week. This filming resulted in two films. "The Mexican Suite," and then, this film "Memories of the Duke."
Filmmaker's note
"Any musician you talk to, white, black, grizzled or gray, wanted to play with Duke Ellington's band, believe me." - Russell Procope, Ellington's clarinetist
Related links