1/1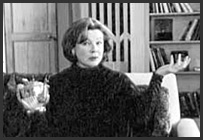 ---
MERCI DOCTEUR REY
East Coast Premiere
France, 2002, 93 min
Shooting Format:35mm
Festival Year:2003
Category:Narrative Feature
Cast:Dianne Wiest, Jane Birkin, Stanislas Merhar, Bulle Ogier, Karim Saleh, Didier Flamand, Roschdy Zem, Nathalie Richard, Dan Herzberg, Jerry Hall, Simon Callow, Vanessa Redgrave,
Crew:Executive Producer: Ismail Merchant - Producers: Rahila Bootwala, Nathalie Gastaldo - Cinematographer: Laurent Machuel - Editor: Giles Gardner
Sales:Merchant Ivory Productions - 250 West 57th Street, suite 1825 New York, NY 10107
Email:contact@merchantivory.com
Synopsis
It's not easy for Thomas to be the only son of a world-famous opera diva. Or to look for Mr. Right on chat lines. Or to witness a murder up close. But when his long-deceased father pops back into the picture, that's the last straw! There's only one thing left to do: seek professional help. Unfortunately, the professional in question - a certain Dr. Rey - has just made her final exit. And one of her patients, an actress who has come totally unhinged, decides to stand in for her. Now Thomas is thrust even further into a maelstrom of off-the-wall encounters and mistaken identities... that is, until his past finally catches up with him.
Trailer
About the director
Writer/ Director Andrew Litvack was born in New York City in 1964. After graduating from Williams College in 1987, he moved to Paris and has lived there ever since. In Paris, Litvack made a living by subtitling hundreds of French films into English, including many by Jean-Luc Godard, Andre Techin, and Youssef Chahine.
In 1992 he worked as an assistant to Youssef Chahine on a play he directed at the Comedie Francaise (Caligula by Camus), and subsequently met Ismail Merchant and James Ivory through Humbert Balsan, Chahine's producer and longtime Merchant Ivory collaborator.
This meeting led to work with James Ivory on the Merchant Ivory films Jefferson in Paris and A Soldier's Daughter Never Cries, and with Ismail Merchant on The Proprietor.
Mr. Litvack wrote and directed his first film, Merci Docteur Rey, in 2001.
Related links