1/1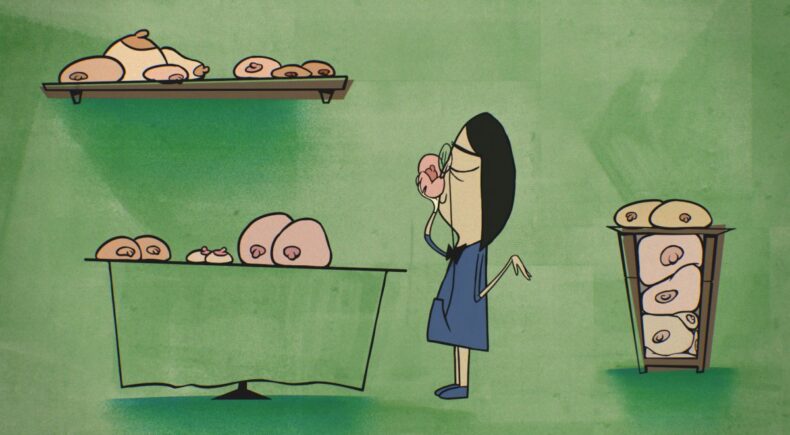 ---
CONFESSIONS OF A BREASTIMATOR
United States, 2016, 4 min
Shooting Format:Digital
Festival Year:2017
Category:Animation
Cast:Jisu Kim
Crew:Producers: Jisu Kim - Screenwriters: Jisu Kim - Composer: Scott Hampton - Sound Designer: Lister Rossel - Additional Sound Effects: Wengu Hu - Advisor: Don Poynter, Anney Bonney , Adam Meyers - Script Editor: Jonathan Norgrove, Jessica Polanieki - Voiceover Recording Engineer: Darren Santa Maria - Coloring Assistants: Jiheyon Bae, Farhanna Hossain , Gonzalo Janer , Svetlana Kandkorova , Nayong Park
Email:jisu.lisa.kim@gmail.com
Synopsis
"Confessions of a Breastimatorâ€, is a story of a breast aficionado who reflects back on her life as an animator, confessing her longtime passion for cartoons and animating double D's. It approaches the potentially controversial subject in a light-hearted and honest embrace of it. Although created fully digitally, the film uses traditional hand-drawing methods partly as an homage to the limited animation style of the 50s.
Trailer
About the director
Jisu Kim is a Korean-Canadian 2D animator and motion graphics artist based in NYC. After high school in Vancouver, BC, she attended the School of Visual Arts in New York where she earned her BFA in Animation (2011) and then her MFA in Computer Art (2016). She has worked at various animation studios in NYC, including Augenblick, Little Airplane, and Animated Storyboards.
Filmmaker's note
When I was young, a cable channel dedicated solely to cartoons, called Tooniverse, was just established in Korea. Fortunately for me, my parents thought it was a great way to entertain their children, and I was exposed to a broad range of animated shows—Japanese magical girl anime to some of the classic 90s American cartoons. Unfortunately for my parents, a lot of them came with more than just a touch of nudity and adult humor. My childhood was basically naked girls flashing their bosoms in my face—which permanently affected my future identity as an animator. When I first began to study animation, I was encouraged to exaggerate the characters' physical attributes to convey their personalities. Needless to say, my favorite piece of anatomy to animate was breasts—my motto was always "the bigger, the better." However, to this day there remains a constant internal battle between the breast-loving animator and the girl from a country and family with conservative ideals. My current project, Confessions of a Breastimator, approaches the potentially controversial subject of women's breasts in a light-hearted and honest embrace of the subject. It is still my passion.
Related links