1/1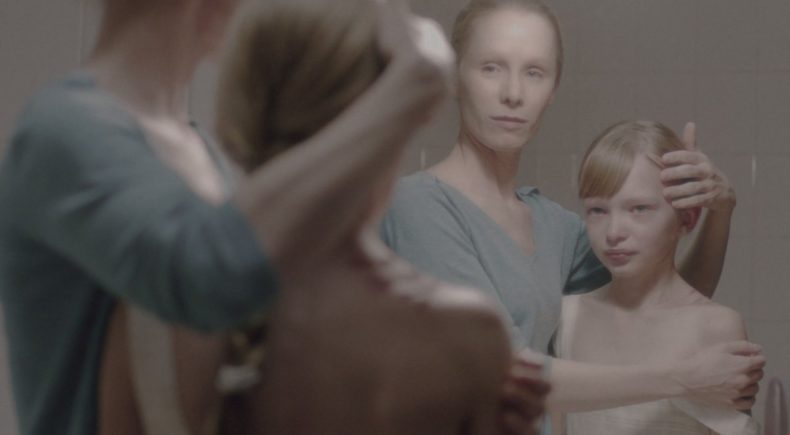 ---
ELISA
US Premiere
Director: Kristina Kean Shtubert
Germany, 2016, 15 min
Shooting Format:ALEXA prores
Festival Year:2018
Category:Narrative Short
Cast:Anastasia Triller, Susanne Wuest
Crew:Producers: Margarita Amineva, Kristina Kean Shtubert, Nicola Alice Hens - Screenwriters: Ines Berwing, Kristina Kean Shtubert - DoP: Nicola Alice Hens
Email:pisma.est@gmail.com
Synopsis
'Elisa' portrays the claustrophobic and extremely painful relationship between nine year old Elisa and her mother. At night, Elisa scratches herself raw. This drives her mother insane. However rather than to see this as a sign that something is wrong, she demands Elisa stop. Does the mother's anger provoke further scratching, or is it the other way around? The little family begins to break apart and Elisa's mother clumsily attempts to keep their life in order, but it has gotten out of control. An undefinable force is splitting them apart.
About the director
Kristina Kean Shtubert was born 1981 in Orsk, USSR. Whilst studying psychology at the Moscow State University of Lomonosov (1998-2004), she attended film direction courses at the Class of Alexander Proshkin in Moscow. After university diploma, she worked as journalist and video editor for different productions until 2005. Currently studying film directing at the German Film and Television Academy in Berlin (dffb).
Filmmaker's note
Asthetically, this film moves between reality and imagination, between the normal world and altered perceptions. We set ourselves the challenge of creating both states of perception, blending them and thereby making Elisa's world, her feelings and fears, palpable.
Related links