1/1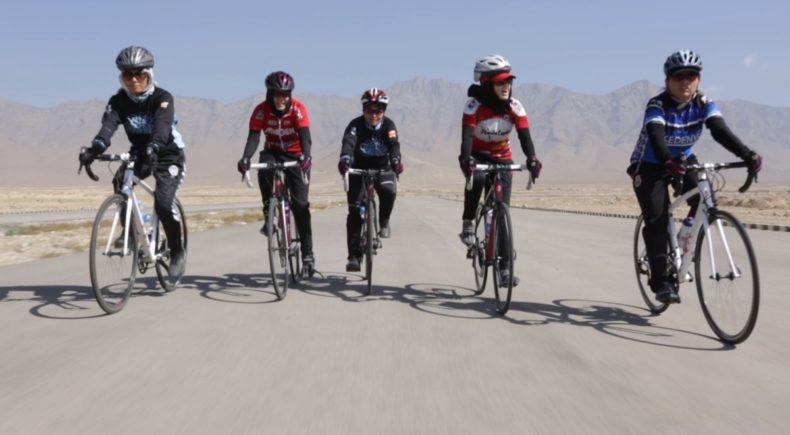 ---
AFGHAN CYCLES
East Coast Premiere
United States, 2018, 90 min
Shooting Format:Digital
Festival Year:2018
Category:Documentary Feature
Crew:Producers: Sarah Menzies, Caryn Capotosto, Jenny Nichols, Shannon Galpin, Anna Brones - Editor: Tony Hale
Email:sarah@letmedia.org
Synopsis
A new generation of young women in Afghanistan are breaking deep-seated gender taboos by learning to ride bicycles, normalizing the visibility of women in Afghan society. Afghan Cycles focuses specifically on women using the bicycle as a literal and metaphorical vehicle for gender equality and social change in traditionally male-dominated societies across the globe. From rural cycling clubs to a new the National Cycling Team, the women profiled in the film are ushering in a new era for a country slowly awakening to global influence and inevitable cultural change. As the security in Afghanistan declines over the course of the film, we see how the violence affects our characters directly. While some are forced off the bicycle at home in Kabul, we follow one brave woman who risks everything to save herself and her family by fleeing the war torn country in hopes of a better future.
Trailer
About the director
Sarah Menzies has been a freelance videographer and filmmaker since 2010, and she founded the production company Let Media in 2012. Her short documentary films, including The Mirnavator (Director/Editor, 2017), A Steelhead Quest (Director/Editor, 2017), and Catch It (Director/Producer, 2014) have screened at festivals such as Mountainfilm in Telluride, CO, Banff Mountain Film Festival, Port Townsend Film Festival, Wild and Scenic Film Festival and many others. Her work has allowed her to venture into wild spaces to bring back amazing stories of strength, courage, and passion that highlight our common humanity. Seeking personal character-driven stories, Sarah's films showcase the good that exists in the world, illustrating to audiences that everyone is capable of creating positive change. Menzies made her feature length documentary directorial debut at the 2018 Hot Docs Film Festival with Afghan Cycles.
Notes
Director Sarah Menzies and crew will be available for Q&A after both screenings. There will be a panel discussion following Friday night's screening.
Related links