1/1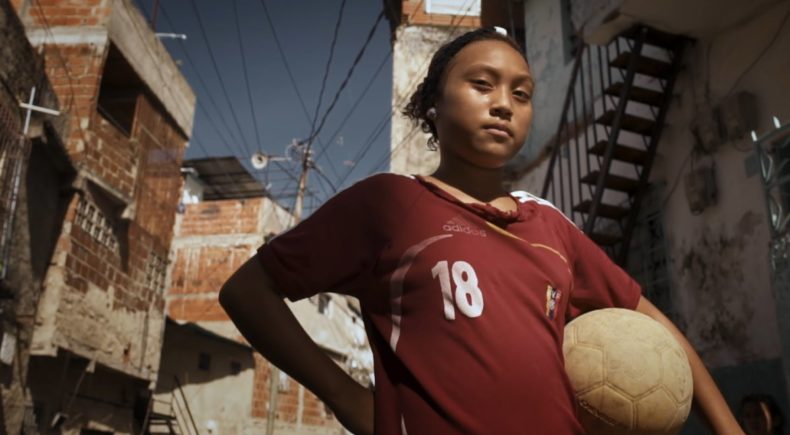 ---
THEY CALL US WARRIORS
(Nos llaman Guerreras)
NY Premiere
Director: Jennifer Socorro, Edwin Corona Ramos, David Alonso
Venezuela, 2018, 81 min
Shooting Format:Digital HD 1920 x 1080
Festival Year:2018
Category:Documentary Feature
Crew:Producers: Jennifer Socorro - Screenwriters: - Excecutive Producer: Priscilla Torres
Email:nosllamanguerreras@gmail.com
Synopsis
In a country torn apart by political and economic upheaval, a team of young women finds refuge in a sport that rises above their personal poverty and gendered social status. But when this new soccer team goes undefeated in all of South America, these women find themselves in the position to win Venezuela's first World Cup and gain a new acceptance and voice in their home country.
Trailer
About the director
Jennifer Socorro (1992) is a young filmmaker born in Caracas, Venezuela. Since a little kid, Jennifer developed a big passion for football, getting involved in this sport in a high competition level. Having this impulse of getting together her two passions she takes it to the next level as she developed "Nos Llaman Guerreras" (a.k.a They Call us Warriors). Edwin Corona Ramos (1992) is a young filmmaker based in Caracas, Venezuela. In his early years Corona Ramos focused his career in advertising as a creative director. In 2015, his work made him winner of the prestigious gold ANDA award in Venezuela that recognizes advertising pieces in that country. In 2016 he enrolls in a Film production company named Al Agua Cinema where he developed his first documentary feature "Nos Llaman Guerreras (They Call Us Warriors)". David Alonso (1989 - 2016) was a Venezuelan independent Filmmaker co-founder of 'Al Agua Cinema' Production Company. In 2016 he Co-Directed the documentary feature "Nos Llaman Guerreras" with Jennifer Socorro and Edwin Corona. In September 2016 David Alonso died at 27 in a car accident while working as Director of Photography on the movie "Historias de Atacama" in the Atacama desert in Chile. Sadly this tragic accident happened before he could see his last documentary completed.
Notes
The Producer Priscilla Torres will be available for Q&A after both nights screenings.
Related links