1/1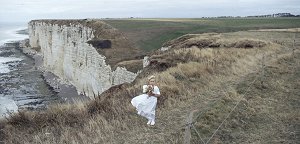 ---
FANNY'S WEDDING
(Le Mariage De Fanny)
US Premiere
France, 1999, 18 min
Shooting Format:35mm
Festival Year:2000
Category:Experimental
Crew:Cinematographer: Vincent Jeannot - Production/Distribution: Antoine Martin Productions 301 route de étal, 76000 Rouen, France
Email:olivier.brunet@fnac.net
Synopsis
In her house close to the edge of the cliff, Fanny remembers Simon, her fiancé, the love of her life. "They" took him away on their wedding day, a long time ago, during wartime.
About the director
Has been titles designer and post-production supervisor for 14 years. Has also directed commissioned films, mostly in special formats (Imax®, 360°), and one venue dedicated to special effects (a dark ride pavillion at the Futuroscope in Poitiers). Leader (singer, drummer and sound engineer) of an obscure french rock band with an impossible name ("Master Bators").
Filmmaker's note
I'm a film maker because making films helps me to live. I must make films. I haven't found any better way to communicate with the outside world. What moves me the most with this medium is what makes it one of a kind : movement, matter, time and sound. My wish is to use it to describe mental landscapes in motion, memory and oblivion at work. "Fanny's Wedding" is connected to the stories my mother used to tell me about her life during wartime, as a child. She saw the bombing of Rouen, she saw the Gestapo carrying out raids on jewish families, and she passed on her terror to me. It is also an attempt to celebrate the beauty and the darkness of Nature, lust for life and world-weariness.
Related links