1/1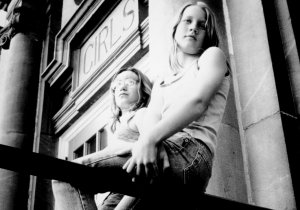 ---
A FEELING CALLED GLORY
East Coast Premiere
Canada, 1999, 28 min
Shooting Format:35mm
Festival Year:2000
Category:Narrative Short
Sales:915 Drayton St, N. Vancouver, BC V7L 2C5
Synopsis
A delightfully morbid and life-affirming story about a quirky summer friendship between two oddballs who have unique and opposing outlooks on coping with loss, and each other.
About the director
Coreen Mayrs was born in Vancouver, Canada. She studied Archaeology at the University of British Columbia, and after graduating, moved on to work in the film industry in Vancouver, first as a production assistant, and over the last 10 years as a Casting Director on productions such as Chris Carter's X-Files, Millennium, Harsh Realm, and the recently produced pilot The Lone Gunmen. Other casting credits include the feature film Smoke Signals and the soon-to-be released feature Beautiful Joe, starring Billy Connelly and Sharon Stone. A Feeling Called Glory, winner of several awards, including the Nell Shipman Award for writing and directing, is Coreen's first film.
Filmmaker's note
I love making films that make you laugh and cry at the same time. I love dealing with absurd subject matter that could possibly be reality based if you stretched your mind. My first two films, "A Feeling Called Glory", and "The Rememberer" both enter that territory that exists at the boundary between reality and absurdity. They both go to a place that is unexpected.
Related links