1/1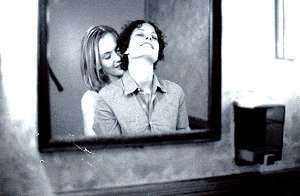 ---
HUMIDITY
World Premiere
Director: Nyle Cavazos Garcia
United States, 1999, 25 min
Shooting Format:16mm
Festival Year:2000
Category:Narrative Short
Crew:Writer/Producer: Nyle Cavazos Garcia - Camera Eliot Ferguson - Lights: Steve Briante - Editors/ Executive Producers: Nyle Cavazos Garcia, Eliot Ferguson - Production: Small Town Pictures, 43 East 20 Street, 6 Floor New York, NY 10003
Synopsis
Leigh is getting older and finding herself stuck in a frustrating routine, only that routine belongs to somebody else. Clark, her neighbor, is a fifty-year old widower whose days are filled with doing laundry, watching pornography and drinking tonic water with lime at the neighborhood bar. When Leigh's obsession with Clark's deterioration manifests itself in the form of another voyeuristic neighbor, both Leigh's and Clark's safety falls to risk.
Trailer
About the director
Nyle has written four feature film screenplays and is currently producing "Cowboy", a feature film for writer/director Jane Gaffney. Shooting for "Cowboy" begins in September 2000 in New York.
Filmmaker's note
If I do have something to say as a filmmaker it would be..Watch and learn.
Related links