1/1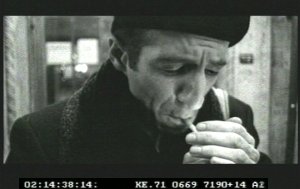 ---
THE LAUGHTER OF GOD
World Premiere
Director: Dylan Verrechia
United States, 1999, 15 min
Shooting Format:16mm
Festival Year:2000
Category:Narrative Short
Crew:Production: BACCHUS PRODUCTIONS: 1 University Place #21G, New York, NY 10003
Email:bacchusproductions@hotmail.com
Synopsis
Mr. Gouliate, an Algerian journalist in exile, lives with his daughter in New York. He has to deal with the burden of his memory and the reality of his daughter's integration in their new life.
Trailer
About the director
Dylan Verrechia was born in Paris to a Italian-French father and a Sephardic Danish mother. He graduated with honors in film and television from New York University, Tisch School of the Arts. Co-founder of 25th Frame and Troopers Films, Dylan produced a score of documentaries including "Kids of the Majestic", the 2004 BIFF winner "Arakimentari", and "Maestres do Mamulengo". His short film "The Laughter of God" won Best Actor, Best Cinematography and Runner Up Director at the 2003 IFCT Film Festival. "Tijuana Makes Me Happy" won the Grand Jury award for Best Narrative Feature at the 2007 Slamdance Film Festival and Indie Max Award at the 2007 San Antonio Film Festival.
Filmmaker's note
I am a story-teller, materializing on film emotions that will enlightened life. - Because movies reveal the beauty of living.
Related links