1/1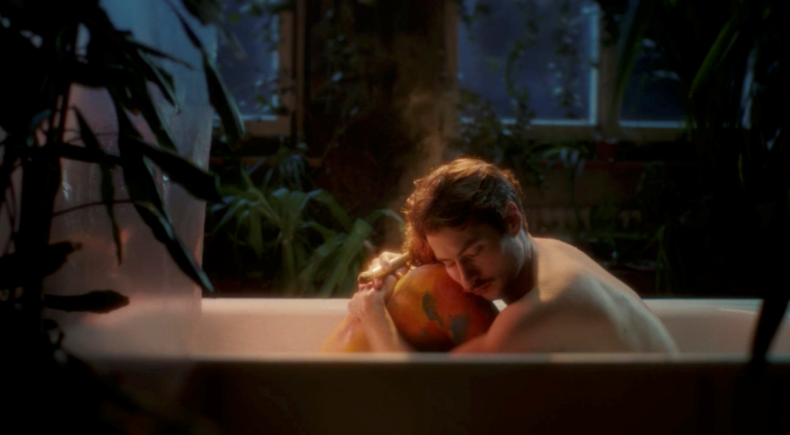 ---
Elysium
(Elysium)
World Premiere
Director: Kathrin Schweizer
Switzerland, 2019, 16 min
Shooting Format:Digital
Festival Year:2020
Category:Experimental
Genre:Drama
Cast:David Martinez Morente, Jasmin Hauser
Crew:Writer: Kathrin Schweizer - Producer: Zurich University of the Arts - Cinematographer: Natascha Vavrina
Email:kathrin.schweizer@hotmail.com
Synopsis
Detached from time and space a man loses himself in the underwater world of his bathroom. The very act of creation seems impossible. Haunted and intimidated by the stereotypical image of the female muse and memories of a non existing future make it impossible for him to focus. Overwhelmed with his confusion his whole world blows up in flames and he discovers a new approach to sexuality within himself.
Trailer
About the director
Kathrin Schweizer (1997, Stans, Switzerland) wanted to become a writer even before she could neither read nor write. She experiences the world by writing, painting, performing, listening attentively and, since the beginning of her film studies at the Zurich University of the Arts in autumn 2017, also through the lens of her camera. After graduating from high school in Stans, she worked in an artist's studio, where she discovered her love for oil paint. Ever since she paints murals with local artists everywhere she travels.
Filmmaker's note
To discover and create in the most respectful and sensitive way is my daily motivation. As a young female I have very often experienced to be "musified". That means that I have been for fellow artists - mostly for men - an inspirational contributor mainly through my femininity and natural sexual aura. It is not necessarily a bad thing, but it can easily get out of control. The muse gets objectified. She loses her identity to an image that is constructed around her and projected on her personality. The projector may forget that the other person is a creative as well or may even be intimidated by her fertile creativity. This results in the feeling of not existing anymore. I chose to tell the story in my first short film "Elysium" from the view of the one that projects - the man in this case - because I believe even the projector suffers and needs to acknowledge that in order to escape and heal from it.
Related links