1/1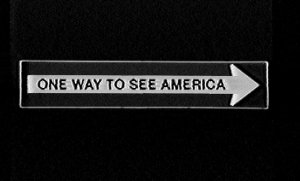 ---
ONE WAY TO SEE AMERICA
US Premiere
United States, 1999, 3 min
Shooting Format:Beta
Festival Year:2000
Category:Experimental
Crew:Production Company: Hallways Contemporary Arts Center
Email:kaikaljo@yahoo.com
Synopsis
"In 1998, I spent some time in Buffalo at Hallwalls Contemporary Arts Centre as an artist-in-residence. This was my first visit to America and the video "One Way to See America" was based on my first impressions. I saw a lot of signs and restrictions everywhere, some of them really bizarre (like Am-I -Gone-Funeral Home), started to make photos of them and finally constructed a kind of life story."
About the director
Kai's videos have been exhibited in Finland, Sweden, Germany, the Netherlands, Great Britain, Slovenia, Yugoslavia, Lithuania, Poland, Latvia, Hungary, Portugal, andEstonia
Filmmaker's note
I think all my videoworks have something to do with freedom.They also have always been ironic. Maybe it is somehow connected to the fact that Estonia used to be a part of the Soviet Union. In my recent works "Love letter to myself" and "Pathetique", made in 1999 I am dealing with the possible sources of art production, trying to find out where the ideas come from.
Related links