1/1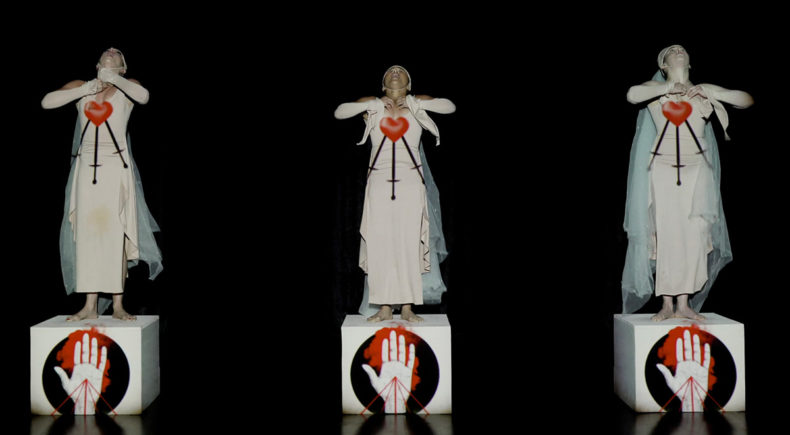 ---
Once There Was III
United States, 2021, 7 min
Shooting Format:Digital
Festival Year:2022
Category:Experimental
Cast:Karen Chuang, Diana Schoenfeld, Angel Mammoliti
Crew:Producer: Nina McNeely. Comissioner: Entity Dance Company; Director of Photography: Nathan Kim; Projection Tech: Quin Cabalquinto; Choreographer: Nina McNeely; Animator: Nina McNeely; Editor: Nina McNeely; Musicians: Umru, Warpstr; Music: Umru @umru, @warpstr; Dancers: Karen Chuang @karenschuang, Angel Mammoliti @angelmammoliti, Diana Schoenfield @dianascho; Costumes: LVDF Design @l.v.d.f
Email:ninamcneely@gmail.com
Synopsis
3 women bound to a shared soul oscillating between the throes of brutality and piety. A visceral display of true sisterhood- they suffer together, thrive together and bleed together.
About the director
Nina McNeely is a storyteller, provocateur, and a creator. She is a choreographer, visual artist, director, creative director, and animator. Nina is madly in love with people, and finds no greater pleasure than studying the human condition. In her experience, the human form in motion is both poignant and poetic, capable of expressing concepts and feelings that words simply cannot. She sees the connection and chemistry between people as an immeasurable force, containing pure electricity. Nina's work is visceral, rebellious, rowdy - and at once introspective, delicate, and alluring. She strives to be an unknowing vessel that channels artistic expression, and a guide that may lead any willing artist towards their own truth. As an avid believer in Magick, Nina has a keen eye for those who contain it. She prides herself in her preparedness, attention to detail, and work ethic - she never shies from a challenge. Throughout her career, Nina has been fortunate to work with Björk, Gaspar Noé, The Weeknd, Rihanna, Foo Fighters, Sam Smith, Alicia Keyes and black midi to name a few - all legends in their own right.

Filmmaker's note
This piece was performed with live projection mapping.
Related links