1/1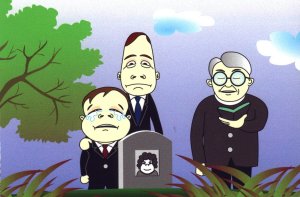 ---
A FAMILY
United States, 2002, 5 min
Festival Year:2003
Category:Animation
Crew:Joonyoung Suk
Sales:Joonyoung Suk, ny
Email:jsuk@mac.com
Synopsis
A woman dies from breast cancer leaving behind a husband and son. Her husband and son forget her soon after her death and enjoy their lives. They do whatever they were not allowed to do when she was alive and watching over them. Full of dark humor that sheds light on the evil minds we all have. Although the film is about breast cancer, it is not a PSA.
About the director
I was born in Korea and grew up there. I wanted to go to art school, but my father forced me to go to business school. During those years, I drew cartoons for a local magazine as a freelancer. My father finally realized that I had talent and he allowed me to go to United States to study animation. I went to SIUC at Carbondale, Illinois and studied Visual Communications then transferred to Pratt Institute, New York. At Pratt, I majored in traditional animation and graduated in May 2002. Currently I work at Alfredo Jaar studio as Flash animator and web designer.
Notes
A Family is Flash animation(30fps).
Related links