1/1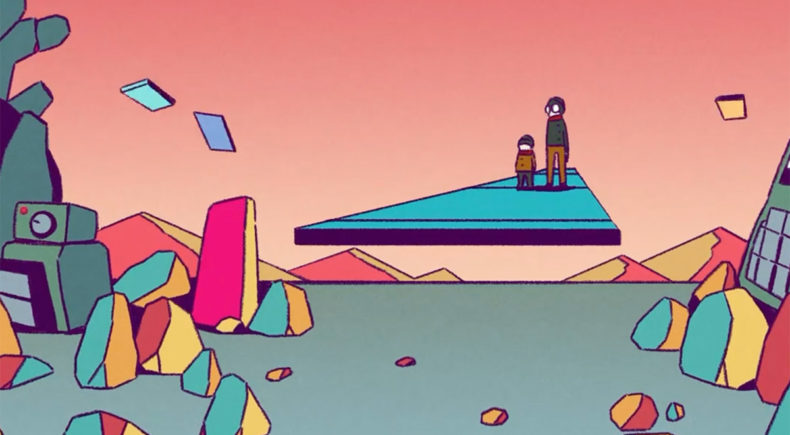 ---
Mi
Directors: Masayoshi Nakamura and Zak Engel
United States, 2022, 4 min
Festival Year:2023
Category:Animation
Genres:Fantasy, Sci-fi
Crew:Writer: Zak Engel. Producers: Zak Engel, Allie Hess. Animation: Masayoshi Nakamura; Music: Zak Engel
Email:engelzachary@gmail.com
Synopsis
Father and son roam a forest where life is untamed and immense in the eyes of the young boy. Journeying to the bottom of a lake, the son progresses through a series of doors or "portals" into his father's past.
A love story between father and son, husband and wife, family and time.
About the directors
Masayoshi Nakamura - MASAYOSHI NAKAMURA is an animation director based in New York. Masa grew up in Nishinomiya, Hyogo, Japan, and came to New York where he studied graphic design at School of Visual Arts. He has worked for various commercials, online contents, brandings, music videos, and TV documentaries: the clients including Netflix, Sony music, IBM, NBC, TED talk, Sesame Street, Cartoon Network, NPR, and Nickelodeon. His last short film "Albatross soup" was selected as "Animation of the year" on Vimeo Awards, and was screened all over the world, including Sundance film festival.
Zak Engel - ZAK ENGEL is a composer/sound-designer for film, television and performance. Currently located in Maine, Zak composes and performs on piano, guitar, bass, percussion, saxophone, violin, voice, and a vast array of electronic instruments and synthesizers.
Recent film and television projects include Ultrasound (Magnolia Pictures) directed by Rob Schroeder and starring Vincent Kartheiser (Mad Men). Feature-length documentary Primera, following Chile's recent path toward rewriting their constitution, directed by Vee Bravo. Zak co-scored—alongside Fred Warmsley—See Know Evil a biographical documentary detailing the life and legacy of fashion photographer Davide Sorrenti, directed by Charlie Curran. Zak also co-scored—alongside Jay Wadley—the first three episodes of the 2020 Netflix series The Innocence Files directed by Academy Award Winner, Roger Ross Williams.
Recent shorts include Ben Altarescu's Say Hey—a vimeo staff pick, Lowland Kids premiered at SXSW and set on Isle de Jean Charles following the story of America's first climate change refugees, Monster Factory an intimate doc – and Vimeo Staff Pick – set in the world of amateur pro-wrestling, Wilder Palms produced by Rathaus Films and winner of both the Audience Award and Best Made In Hawaii Award at the Hawaii International Film Festival, and Monster a visceral portrait of motherhood directed by Jake Kolton – another Vimeo Staff Pick.
Commercial client partnerships include Apple, Facebook, YouTube, Spotify, Intel, Under Armour, The New York Times, Sony Pictures, Universal, MTV, The Fader, Bumble, IKEA, Nickelodeon, Scholastic and Paramount.
Filmmakers' note
M.N. - This film is the journey of father and son.
Zak told me this musical composition was inspired by his then two-year-old son,
and he wanted to make this film about his young son entering into this unknown world.
Zak being a guide, as best as a father could be.
As a father of two young boys myself,
I gravitated to his sentiment and immersed myself in this project, injecting my own experience.
Even though my boys are bigger now, I still remember the time when they couldn't go up stairs without holding my hand.
Now, so eager to let go of my hand and go off on their own. I remember them being so small and fragile.
I felt I will, with all of my power, protect them from all the bad from this world.
Kids grow up so fast, and we grow old quick.
I wanted to hold on to that memory.
I wanted to encapsulate that feeling.
In this film, I pursued capturing these memories and feelings of being a father.

Z.E. - Becoming a father has been the most emotionally stimulating experience of my life. The "Mi" story, originally told through music, is an attempt to crystallize the surreal headspace I consistently returned to as I learned to communicate with my son. Without the luxury of spoken language, imparting wisdom and the fundamental rules of reality to a new child is an act of soul and spirit. Both elements Masa has beautifully captured in our film.
Only in stories can I bring my son to the moments of my life that came before him. Memories
that shaped the answers I give to his questions. I hope he never stops asking.
For Leroy

Related links