1/1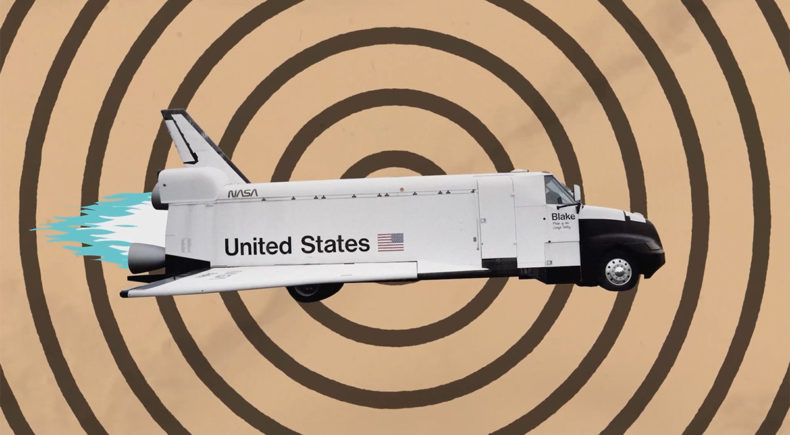 ---
The Blake
NY Premiere
Directors: Courtney Sposato and Mark Sposato
United States, 2022, 15 min
Shooting Format:Super 8, VHS, XAVC S
Festival Year:2023
Category:Documentary Short
WINNER: Best Short Documentary
Email:courtneysposato1@gmail.com
Synopsis
In 1995, an elementary school art teacher converted an old bus into a replica of the Challenger space shuttle and used it as a science laboratory to teach kids about space. This cinematic memoir explores the filmmaker's childhood experience with the shuttle and how it helped her cope with a huge loss.
About the directors
Courtney Sposato - The Sposatos are an Emmy nominated, married filmmaking duo.

Courtney Sposato is an accomplished editor at Showtime and an Austin Film Festival Screenplay Competition Finalist, with over twelve years of film and TV experience. She's cut promotions for director Jonathan Demme, and oversaw post production for Beyoncé's HBO's film Life is But a Dream.

Mark Sposato is a designer, creative director, and filmmaker. An early inspiration was watching his cousin, David Chase, create and show-run The Sopranos. A junkie for hard-hitting, deep-cutting speculative fiction, his goal is to bring bold ideas to a diverse audience, moving them to think deeply about the human condition and grapple with the challenges we've left for future generations.

When Mark and Courtney realized a shared passion for storytelling could spark a powerful creative partnership, they decided to make movies together. Their love of cinema, complementary skill sets, and similar sensibilities enable them to push one another to achieve more together than would ever be possible alone. The Sposatos run a collaborative and agile set, working alongside a trusted and tireless crew that are more like family than coworkers.

Mark Sposato -
Filmmakers' note
This film kind of exploded out of me. While watching Cosmos with my husband this past April, I had a sudden rush of memories from my childhood of The Blake. The bus that was turned into a replica of The Challenger by my elementary school art teacher. He wanted to use it as a science laboratory so kids could have hands on access to learning about space. This all happened in the mid 90s, before the internet was in every home in America. We were one of the first schools to talk to astronauts live at the space station.

I started tracking down my teacher, and once I found him, the film just came together at lightning speed. Everyone I spoke to wanted to be a part of this, and help bring this story to life. Everyone was so proud of the work they did with The Blake. In this film, I explore The Blake's profound impact on me, and more importantly, how it helped me cope with my life's first heartbreaking loss.

Related links