1/1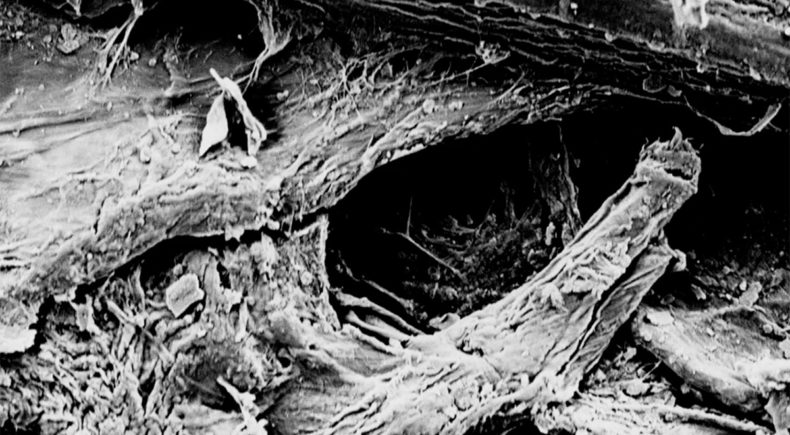 ---
2cent / 10coil
Director: Monteith Mccollum
United States, 2023, 10 min
Shooting Format:Digital
Festival Year:2023
Category:Experimental
Crew:Producer: monteith p mccollum.
Email:mccollum@binghamton.edu
Synopsis
Part science, part history, 2cent / 10coil is an exploration into the physical properties of a U.S. postage stamp and the anomalies it presents when subjected to the beam of an electron microscope. Integrated within, are the philosophical musings and speeches of a man in his last weeks of life on a quest entitled, "The Voyage of Understanding."
About the director
Monteith McCollum is an multimedia artist working in digital video / film, sound, and sculpture. His films often explore intersections between humanity, agriculture, and the natural environment. His longer form documentaries and experimental shorts have been screened nationally and internationally both on PBS's "POV" series as well as in theaters and museums such as the The Museum of Modern Art, The Hirshhorn, HBO theaters and Festivals including South by Southwest, Hot Docs, and the San Francisco International Festival. His latest work has focused primarily on sound processes and audio visual performances, interweaving interests within environmental field recordings and musical assemblages using violin and modular synthesis. Much of his recent films have focused on researching lesser known sound technologies and scientific processes within sound recording practices. In addition to screenings, his audio visual work has also received support and been funded by the New York Foundation for the Arts, Rockefeller Foundation, NEA, and the Jerome Foundation. He received an IFC Independent Spirit Award for his feature film Hybrid in 2002.
Filmmaker's note
I like to say this subject found me. At the Analytic Diagnostics lab at Binghamton University I received training over many months culminating in access to the Scanning Electron Microscope. I was enamored with the unique possibilities the SEM offered despite its difficulties. I brought in a small stamp collection to give myself border limitations. The 1932 Harding stamp was the first to come to life. Using the SEM is a slow process, after sealing the stamp in the chamber and composing a shot there was only time for 120 consecutive scans per session. This particular stamp reacted in a way the others hadn't, fibers came to life and the ink danced. None of these images are animated with software. The mysterious movement stems from the scanning process itself and the build up of heat from the electrons rendering the object.
Related links