1/1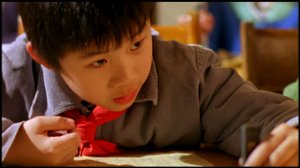 ---
LEFT HANDED
East Coast Premiere
Canada, 2002, 10 min
Shooting Format:Super 16
Festival Year:2003
Category:Narrative Short
Cast:Daniel Yan, Arthur Cheng, Xiao-Ming Yu, Xingfa Zhang, Fu Yu
Crew:Producer: Alison Humphrey -Screenwriter: Baoqi Ye & Alison Humphrey - Editor: Peter Yu - Cinematographer: Jeff Maher - Original Score: Kirk Elliott - Sound: Rob Turi - Design: April Viczko
Sales:HYPNOTIC, 1520 Cloverfield Blvd., Suite D - Santa Monica, CA 90404 - Tel 310.453.2345 - Fax 310.453.0075 - www.hypnotic.com
Email:anna@hypnotic.com
Synopsis
The round hole...the square peg. If neither bends, which will break? A left-handed boy is just beginning school. In 1979 China, conformity is a matter of survival, so his teacher convinces his father to correct his "problem" for the boy's own good. At home and at school, the boy struggles to understand his place in the world, guided only by the sage advice of an ambidextrous street-corner barber. Then one day, his father sprains his right wrist in a bicycle accident...
About the director
Baoqi Ye graduated from Tongji University in Shanghai, receiving his Bachelor of Engineering degree in Industrial Design. Ye worked for Ogilvy & Mather Advertising Shanghai first as Art Director, then as Creative Group Head. He has created dozens of commercials for clients like Vespa Scooters, Siemens Home Appliances and Beck's Beer. The Beck's campaign won both Gold and Silver medals in the Times International Chinese Advertising Awards organized by Taiwan Times Newspaper. He holds a diploma in Advanced Film and Television from Sheridan College, Ontario, Canada.
Notes
Jeff Maher won the Canadian Society of Cinematographers' 2003 CSC Award (www.csc.ca/awards) in the Student category, for his work on "Left Handed"
Related links