1/1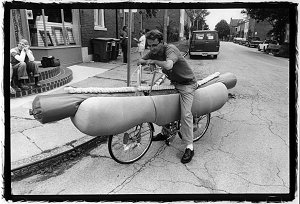 ---
FOOTLONG
East Coast Premiere
Director: Gerry Beyer & Chris Patak
United States, 2002, 44 min
Shooting Format:MiniDV
Festival Year:2003
Category:Documentary Short
Crew:Producers: Chris Patak, Gerry Beyer - Screenwriter: Gerry Beyer, Chris Patak, Ariel Nachmann - Editor: Gerry Beyer, Ariel Nachmann, Chris Patak - Cinematographer: John Choi, Robert Becchio, Jay Feather, Chris Patak - Post-production Supervisor: Nick Renbeck - Photography & 2nd Camera: Kevin Miller
Sales:Matt Henderson, Distributor - SEVENTH ART RELEASING, 7551 Sunset Blvd. Suite 104 Los Angeles, CA 90046 USA - T: 323-845-1455 - F: 323-845-4717
Email:seventhart@7thart.com
Synopsis
"To understand America, you must look at the hot dog." "Footlong" producer Gerry Beyer "Footlong" takes a humorous and educational look at wieners and the people who eat, sell, make and worship them. Filmmakers Chris Patak and Gerry Beyer hit the road with a 5-foot wooden hot dog bolted to the roof of their maroon 1982 Chevy van with the intention of exploring the influence of the hot dog on American culture and eating a whole lot of dogs along the way. The film chronicles their adventure as they travel from one historic hot dog venue to the next. These lifelong pals document the history of the hot dog by hitting every famous dog landmark from Pink's Chilidogs in Los Angeles to Nathan's Famous Hot Dog Eating Contest in Coney Island and features trips to the final resting place of the Oscar Meyer Wienermobile in Detroit, The Hot Dog Hall of Fame and even The Hot Dog Ministry along the way.
About the director
Gerry Beyer attended Syracuse University, where he majored in Exploitation and Propaganda (i.e., "advertising"). Upon receiving his degree, he wanted to use his trained skills of persuasion. But not to make fat girls want to be skinny. And not to promise skinny girls to fat guys through the miracle of beer. No Yellow Hearts and Blue Diamonds. No "Less Filling, Tastes Great". No Calvin. No way.
Christopher PatakBy the time Chris was a senior in High School, he had made dozens of animated films and four dramatic shorts. He later enrolled at Ithaca College and happily sped away to major in Cinema Production.
Related links