1/1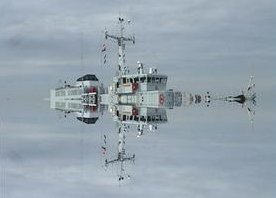 ---
STARSHIP
US Premiere
Director: Bernard Gigounon
Belgium, 2002, 6 min
Festival Year:2003
Category:Experimental
Crew:Producer, Cinematographer: Bernard Gigounon - Editor: Roger?
Sales:Bernard Gigounon - 87, rue de savoie 1060 Bruxelles - T: +32 2 534 64 48
Email:Bernard_gigounon@yahoo.com
Synopsis
Ships as spaceships: you never saw them so beautiful before. Starship shows an enormous symmetrical axis, stranded on a North Sea beach. For the last fifty years, new technologies and impressive means of transport have awakened our imagination on the silver screen, in science-fiction films like Star Trek and Star Wars. Gigounon shows that alien objects landed on earth ages ago and that we do not even have to look that hard to find them.
About the director
Bernard Gigounon lives and works in Brusells. Bernard is known in the European art world as a sculptor, and he often uses video as material in his work.
Related links