1/1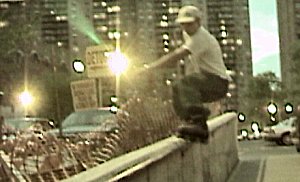 ---
SKATING + FEAR = FUN
World Premiere
Director: John Alacantara
Crew:Producers: Stephanie Walter Williams, John C. Williams - Screenwriter: John Alcantara - Editor: John Alcantara, John C. Williams - Cinematographer: John Alcantara, Melissa Garry - Original Score: courtesy of Music Box and Nightingale Music
Sales:John Williams, Prospet Park YMCA, Teen Filmmaking Program - 357 Ninth Street Brooklyn, NY 11215 - T: 718-965-1646 - F: 718-965-1646
Email:john@awarenessfilms.com
Synopsis
What can roller-skating teach you about overcoming life's obstacles? A lot! John Alcantara explores his passion for skating and the friends who have inspired him.
About the director
John Alcantara is a junior at Abraham Lincoln High School in Brooklyn. His passions are photography and skating.
Notes
This film was produced as part of "Reel Stories - Prospect Park YMCA Teen Filmmaking Program".
Related links