1/1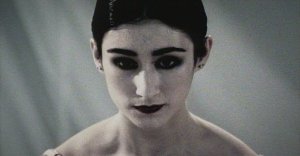 ---
DANCE TO THIS
US Premiere
Canada, 2002, 6 min
Shooting Format:Super 16
Festival Year:2003
Category:Experimental
Cast:Choreography and Dance Performance by Sabrina Christine Matthews.
Crew:Producer, Screenwriter: Simon Dekker - Editor: Logan McPherson - Cinematographer: Richard Garbutt - Original Score: Douglas Schmidt - Sound: Kypros Christodoulides
Sales:Simon Dekker, Producer and Director - DKR Pictures Inc., #1, 626 - 23 Avenue S.W. Calgary, AB., Canada T2S 0J7 - T: 403/ 806-7601 - F: 403/ 806-7602
Email:dekkers@telusplanet.net
Synopsis
Dance to This is a ballet film that features the innovative choreography and thrilling dance performance of Canada's alluring and gifted Sabrina Christine Matthews, as set to composer Douglas Schmidt's modern classical soundtrack. Dance to This is the story of a toy ballerina's dream to dance.
About the director
Intrigued by how movement and music communicate profoundly without words, director Simon Dekker crafted Dance to This to share a message of peace, beauty, and mystery. This is his first independent film.
Related links