1/1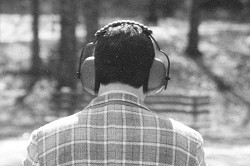 ---
STATIC
NY Premiere
United States, 2003, 4 min
Shooting Format:35mm
Festival Year:2004
Category:Experimental
Cast:Mark Parsia
Crew:Producers: Paiman Kalayeh, Mark Parsia - Screenwriter: Paiman Kalayeh - Editor: Ben Brown - Cinematographer: Mark Raker - Sound: Ben Brown - Special Thanks: Sam Pollard
Sales:Shish Kabob Productions, 1528B 17th St. Santa Monica, CA 90404 - T: 310-926-8131
Email:pmk210@nyu.edu
Synopsis
The film is set in a tyrannical world, where its citizens are forced to wear headphones, which control their every thought and belief. When one man decides to free himself from the faceless oppressors, he discovers he has no choice but to conform to their system.
About the director
Born in West Lafayette, Indiana, Paiman Kalayeh, first generation Iranian-American, was raised in Hockessin Delaware. He attended NYU where he received his B.F.A in Film & Television. While at NYU, Paiman made a number of short films. His thesis film, "The Pizza Boy", was well received on the festival circuit, screening at the Austin Film Festival in 2002 and winning honorable mention at the First Look Student Film Festival in 2003. After graduation Paiman started his own independent production company, Shish Kabob Productions, with his friend and producing partner Mark Parsia. They are planning to make a feature within the next year.
Notes
Producer Mark Parsia will be available for Q&A after the screening. Editor/sound editor Ben Brown and director of photography Mark Raker will also be in attendance.
Related links