1/1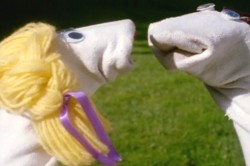 ---
PUPPET LOVE
World Premiere
United States, 2003, 5 min
Shooting Format:16mm
Festival Year:2004
Category:Narrative Short
Cast:Evil Man: Brandon Pane, Puppets by: Nathen McGee, Young Filmmaker: Mike Smith
Crew:Eric Callero - General crew: Wing, Jenny & Laura
Sales:Eric Callero - 7265 Mesa Drive Aptos, Ca. 95003 USA - T: (831)-212-6513
Email:ecallero@yahoo.com
Synopsis
A young filmmaker falls asleep trying to come up with ideas for his latest film. In his dream, we see two sock puppets who fall in love at first sight. But the evil man will have no part in such happiness and takes the girl away. Now the boy must save her and rid the evil man of their presence all before the filmmaker awakes.
About the director
Eric Callero was born in Santa Cruz, California, in 1982. He is currently an undergraduate in Cinema at SFSU. Aside from filmmaking, Eric also enjoys acting and playing guitar in the Rockabilly Duo The Keen Kousins.
Notes
The director will be available for Q&A after the screening.
Related links