1/1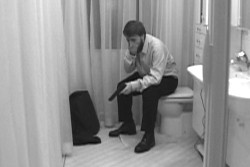 ---
TAKE IT BACK
World Premiere
Cast:David Reilly, Julie Hale, Hope Brown, Elizabeth Lambert
Crew:Viko Nikçi - Post Production: Carlos Almonte
Sales:Welcome Home Pictures, 2 Chapelgate St. Alphonsus Road Drumcondra, Dublin 9 Ireland - T: +353 87 2910842 - F: +353 1 8300728
Email:viko@mac.com
Synopsis
'Take It Back' is the story of an ordinary man whose entire world changes in the blink of an eye. He finds himself in a moment where a split second decision will determine the outcome of the rest of his life. With a slight move of his finger, he makes the wrong decision and enters a road where there is no turning back. 'Take It Back' was shot entirely in one take, one shot. The camera never cuts. Using this method, we are able to see the real-time effect that regret can have on an ordinary man. We float through the story in a way that enables us to experience the film rather than just watch it.
About the director
Viko Nikçi was born in Kosova and grew up in Brooklyn, New York where he completed the New York University Sight and Sound short film course. Under Welcome Home Pictures, a company founded by Viko in 2003, he has written, directed and produced three short films.
Notes
The director will be available for Q&A after the screening.
Related links