1/1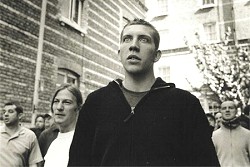 ---
IT'S A CASUAL LIFE
US Premiere
England, 2003, 12 min
Shooting Format:HDCAM
Festival Year:2004
Category:Narrative Short
Cast:richard driscoll, gary lawrence, josh kennedy, steve trister, mark gibbs
Crew:Producer: jon baird - Screenwriter: dougie brimson - Editor: david moyes - Cinematographer: james saligari - Original Score: martin boylan
Sales:T: + 44 7961 430714
Email:info@itsacasuallife.com
Synopsis
You thought soccer hooliganism was a thing of the past? Then think again! IT'S A CASUAL LIFE tells the story of Jimmy and his lifelong membership of the Saturday scene of soccer violence. Through a brutally honest monologue and series of dramatic and violent events, the film challenges the myths surrounding the phenomenon of soccer hooliganism and explores Jimmy's past, passion and above all, motivation. Central to the story is Jimmy's love affair with the culture of football. We discover his resentment at the evolution of The Casual scene and the demise of everything it once stood for. Changes that ultimately arrive for Jimmy have long-lasting consequences.
About the director
Baird initially had the idea for a short film about football violence and hooliganism in March 2003 after reading numerous books on the subject particularly, the work written by Dougie Brimson. Based on an original storyline by Baird, Brimson then joined the project and wrote the final screenplay of It's A Casual Life. In October 2003 after a private press screening, It's A Casual Life received an amazing amount of coverage in the British media for a short film and included the reviews below. www.itsacasuallife.com was then set up and the film has since received thousands of requests from all over Europe from individuals wishing to purchase the movie on DVD. In January 2004, Baird was employed as a co-producer on the feature film, The Yank, starring Elijah Wood (Lord of The Rings) after the film's director Lexi Alexander, (Oscar nominated for Johnny Flynton) saw It's A Casual Life.
Notes
The director will be available for Q&A after the screening. Technial advisor Steve Bruce and Costume supplier Karen Bruce will also be attending.
Related links