1/1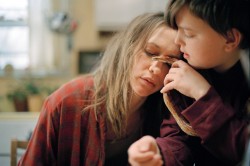 ---
DOWN TO THE BONE
NY Premiere
United States, 2004, 101 min
Shooting Format:Pal DVcam
Festival Year:2004
Category:Narrative Feature
WINNER: Best Narrative Feature and Best Actor Female
Cast:Vera Farmiga, Hugh Dillon, Clint Jordan, Caridad de la Luz
Crew:Producers: Susan Leber, Anne Rosellini - Screenwriter: Debra Granik, Richard Lieske - Editor: Malcolm Jamieson - Cinematographer: Michael McDonough - Production Design: Mark White
Sales:Down to the Bone Productions, 55 East 11th St. No. 11 NYC NY 10003 - T: 212-420-8797 - F: 212-254-1347
Email:arosellini@bway.net
Synopsis
In Upstate New York, Irene (Vera Farmiga) struggles to raise two sons, keep her stale marriage together and manage a secret cocaine habit. Isolated by the strip malls and dying small towns that define the area, Irene's not sure when she went from high school partying to skimming off the grocery money to supply her growing habit - but it's about to end abruptly. Desperate to alter her life, she puts herself in rehab, hoping that she can turn around the world she has made with her husband, Steve (Clint Jordan). But once she's back home the distance between them seems to have grown and Irene ends up falling into an incendiary affair with Bob (Hugh Dillon), a nurse and former addict that she met at rehab. His attention and affection awakens her pushed aside life, but all too soon she realizes they have more in common than she bargained for.
Trailer
About the director
Debra Granik studied at Massachusetts College of Art, Brandeis University & Edinburgh University before attending the Graduate Film Program at New York University, Tisch School of the Arts. SNAKE FEED, her first short film at NYU, won Best Short at Sundance (1998) and she was later invited to attend the Sundance Writer and Director's Labs to develop the script for DOWN TO THE BONE. While in development on BONE she completed her second short film, SIDE BY SIDE and was the Director of Photography on THUNDER IN GUYANA, a feature documentary currently on the festival circuit. DOWN TO THE BONE is her first feature film and garnered the award for Best Director and Best Performance at Sundance 2004.
Notes
The director will be available for Q&A after the screening.
Related links