1/1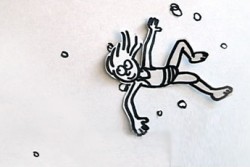 ---
RUNAWAY BATHTUB
World Premiere
United States, 2004, 2 min
Shooting Format:MiniDV, stop motion
Festival Year:2004
Category:Animation
Crew:Animator, Writer, Editor: Annie Poon - Musical Score by Joshua Williams with voice by Maddie Williams
Sales:The Paper Theater, New York, NY - T: 212.564.0177 - F: 212.685.0066
Email:anniebenac@yahoo.com
Synopsis
Bathtime turns into an adventure when a flood carries the two little girls out to sea. They meet fishy friends and foes and have a rainwater tea party.
About the director
Annie Poon is an independent animator living and working in Manhattan. Annie studied Fine arts at the School of Visual Arts. She is 26.
Notes
The director will be available for Q&A after the screening. Joshua and Maddie Williams (sound and score) will also attend the screening.
Related links