1/1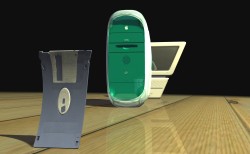 ---
THE FLOPPY
United States, 2003, 2 min
Festival Year:2004
Category:Animation
Crew:Sound: Taras Mashtalir
Sales:Yevgeniy Fiks
Email:fiksy@mccc.edu
Synopsis
This 3-D computer animation is a drama of obsolete technologies. The main character, the Floppy Disk, negotiates her differences with the technology of today and that of "a time past." Having been rejected by G4, the Floppy Disk gains acceptance by the Old Mac. The G4 is defeated. The Floppy and Old Mac emerge victorious.
About the director
Yevgeniy Fiks is a New York-based interdisciplinary artist and writer. He was born in Moscow in 1972 and moved to New York in 1994. Yevgeniy's works have been shown in Moscow, New York, Los Angeles, London, Frankfurt and Havana. His texts appeared in the Moscow Art Magazine, NY Arts Magazine, Artforum, Tema Celeste and Artmargins. Yevgeniy studied at the Surikovsky Institute in Moscow and at the School of Visual Arts in New York.
Notes
The director will be available for Q&A after the screening.
Related links