1/1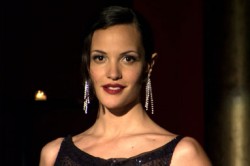 ---
OUTPATIENT
United States, 2002, 109 min
Shooting Format:HDCAM
Festival Year:2004
Category:Narrative Feature
Cast:Justin Kirk, Catherine Kellner, Tomas Arana, Claudia Mason, Henry Dardenne
Crew:Producers: Carlo Scandiuzzi and Scilla Andreen-Hernandez - Screenwriter: Alec Carlin - Editor: Lynn Shelton - Cinematographer: Andres Garreton - Original Score: Benedikt Brydern
Sales:Scilla Andreen-Hernandez, Producer - Clear Pictures, 4035 Goodland Ave. Studio City, CA 91604 - T: (818) 509-9745 - F: (818) 509-9741
Email:scilla@clearpictures.com
Synopsis
A stylish psychological thriller of duplicity, dance, and the descent into madness. When a soft-spoken young writer, Morris Monk (Justin Kirk) – inadvertently committed to an asylum for years due to a systems glitch – is released into the "real" world, his writing begins to blur the boundaries of reality and paranoid hallucination and his therapist, Dr. Patricia Farrow (Catherine Kellner) begins to suspect she has unleashed a ruthless murderer.
Trailer
About the director
Alec Carlin has garnered numerous awards, including "Best of the Northwest" at the Seattle Int'l Film Festival; King County Arts Commission, and an Artist Trust Fellowship. His screenwriting talents also landed him a finalist spot with the Nicholas Foundation. In July of 2001, Alec wrapped production of his self-written and self-directed feature film, Outpatient, a stylish psychological thriller.
Notes
The write/director, Alec Carlin, will be available for Q&A after the screening.
Related links