1/1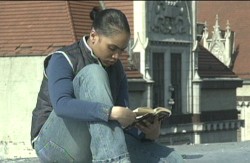 ---
ANNE B REAL
NY Premiere
Cast:Carlos Leon, Janice Richardson, Ernie Hudson, Eric Smith, Jackie Martling
Crew:Producers: Luis Moro, Josselyne Herman-Saccio, Jeanine Rohn - Screenwriter: Lisa France, Antonio Macia - Editor: Doug Forbes - Cinematographer: Stefan Forbes - Original Score: Dean Parker
Sales:Susan Jackson, - Turtle's Crossing, 2312 Calfornia Street Santa Monica CA 90403 - T: 310-924-5222
Email:jackson@turtlescrossing.com
Synopsis
When Cynthia's father hands her "The Diary of Anne Frank" before dying, she never imagined how it would open her soul. Trapped within her own prison, Cynthia finds the courage to stand up and fight for what's hers. In the style of 8 Mile and Girlfight comes a film of intensity and emotion perfectly cast with unforgettable characters.
Trailer
About the director
Anne B Real marks Lisa France's directorial debut in a full length feature which she also produced and co-wrote. Lisa has made a number of short films and her first film Love in Tow won best comedy as London's Filmstock International Film Festival. Lisa is currently developing several new projects, many of which she is scripting.
Notes
Screenwriter Antonio Macia will be available for Q&A after the screening.
Related links