1/1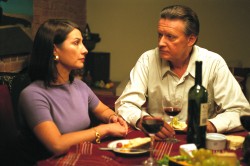 ---
A SILENT LOVE
NY Premiere
Director: Federico Hidalgo
Canada, 2003, 100 min
Shooting Format:Super 16
Festival Year:2004
Category:Narrative Feature
Cast:Vanessa Bauche, Noel Burton, Susana Salazar, Maka Kotto
Crew:Producer: Pascal Maeder - Screenwriter: Federico Hidalgo, Paulina Robles - Editor: Max Chalifoux - Cinematographer: François Dagenais - Original Score: Robert Marcel Lepage - Sound: François Guérin - Set Designer: Gabriel Tsampalieros - Costume Designer: Maory Gastelo
Sales:ATOPIA - 3981, Blvd. Saint-Laurent, Suite 200 Montreal (Quebec) H2W 1Y5 - T: (514) 985-0873 - F: (514) 985-5876
Email:info@atopia.com
Synopsis
A middle-aged film teacher from Montreal embarks on the adventure of his life when he decides to marry a young Mexican woman through the services of an Internet agency. In Mexico, the impulsive yet cautious young woman suddenly requires him to bring her widowed mother with them to Montreal for a brief term, as a condition for marriage. The teacher kindly agrees and they marry in Montreal, with the mother-in-law as a witness. But in the weeks that follow, despite the best efforts of all, the teacher and his young wife can't get along. He is too introverted and she is too restless. Unexpectedly, the teacher finds himself falling in love with his amicable mother-in-law, an enigmatic and attractive woman, herself only a couple of years younger than he is. The mother-in-law senses this attraction and, fearing the worst - that it may be mutual, returns to Mexico. The forlorn teacher confesses his improper love to his wife in Montreal. In shock, she denies him a divorce. But he follows his desire back to Mexico, to an emotional showdown with his astonished mother-in-law. Meanwhile in Canada, the abandoned young wife, humbled by the turn of events, faces up to her independent life with a poignant liveliness of spirit that leaves us with a glimmer of hope.
Trailer
About the director
Before making films, Federico Hidalgo worked as a performer, writer and director in theatre improv, political cabaret, and traditional drama. He studied film production at Concordia University, where he wrote and directed three fiction films, and won several awards and scholarships. His films Lotería (documentary, 1997) and Gesture (1999) were shot in Mexico City in collaboration with Toronto-based filmmaker Roberto Ariganello. A SILENT LOVE is Federico Hidalgo's first Feature film.
Notes
Both writer/director Federico Hidalgo and producer Pascal Maeder will attend the screening of A Silent Love. They will be available for Q&A after the screening.
Related links