1/1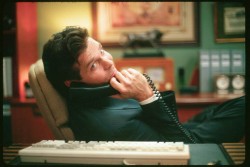 ---
THE KINGS OF BROOKLYN
World Premiere
United States, 2003, 91 min
Shooting Format:35mm
Festival Year:2004
Category:Narrative Feature
Cast:William McNamara, David Keith, Bill Gallo, Neil Minham, Timothy Gibbs
Crew:Producer, Screenwriter: Robert Gillings - Editor: George Folsey - Cinematographer: John Thomas - Original Score: Bob Burke
Sales:Robert Gillings Productions - Staten Island, NY - T: 718-317-7746 - F: 718-966-7-9711
Email:rpg_films@yahoo.com
Synopsis
Three childhood friends from Brooklyn are corrupted by the dark side of Wall Street and suffer the consequences of innocence and ignorance.
About the director
Lance Lane lives in Brooklyn, NY
Notes
Director Lance Lane and producer/screenwriter Robert Gillings will be available for Q&A after the screening. Selected cast members will also be in attendance.
Related links