1/1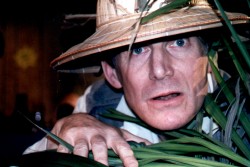 ---
YOU ARE A MONKEY
US Premiere
England, 2003, 6 min
Shooting Format:DVCam
Festival Year:2004
Category:Narrative Short
Cast:Richard Field
Crew:Producer: Michael Onder - Screenwriter, Editor: John Burns - Cinematographer: Jack Cole - Original Score: Mike Sheppard - Sound: Marco Barion - Art Director: Jemima Hawkins
Sales:Pie Films - London, England - T: +44 (0) 7977 554 079
Email:john@pie.uk.net
Web:www.pie.uk.net
Synopsis
You are a monkey. That's why you pick your nose, that's why you eat fruit, and that's why you have those funny dreams about falling out of things...
About the director
John Burns was born in 1978 in London, England. He came to film through a combined love of writing, theatre and a background in fine art. In 2001 he graduated with honors from the prestigious film and video production course at SIAD in Surrey. Shooting his graduation film Killing Time on HD, John became the first student filmmaker in the UK to use the format. In the three years since leaving film school John has worked as a professional freelance writer and director. In addition to numerous short films and music videos, he has also directed corporate videos for Vodafone, AGA PR and Chubb. In September 2003 his short film You Are a Monkey won the coveted Young Filmmaker Award from the Chichester International Film Festival, and has so far been selected for film festival competition in the UK and abroad. John currently lives in London where he is developing a number of projects including an animated music video for Lucky Pierre, a documentary for Ninja Tune and a super 16mm short fiction film.
Notes
The director will be available for Q&A after the screening.
Related links