1/1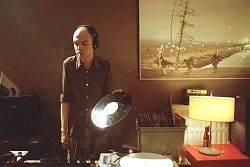 ---
ANY WAY THE WIND BLOWS
East Coast Premiere
Cast:Natali Broods, Diane De Belder, Frank Vercruyssen, Eric Kloeck, Dirk Roofthooft, Jonas Boel, Titus De Voogdt, Matthias Schoenaerts, Sam Louwyck
Crew:Producers: Kaat Camerlynck, Alex Stockman, Christian Pierre - Screenwriter: Tom Barman - Editor: Els Voorspoels - Cinematographer: Renaat Lambeets - Original Score: Tom Barman (Magnus) - Sound: Christian Monheim - Sound design: Senjan Jansen - Mixing: Thomas Gauder
Sales:Nicolas Brigaud-Robert, sales agency - Films Distribution, Paris, France- T: + 33 1 53.10.33.99 - F: + 33 1 53.10.33.98
Email:tax@filmsdistribution.com
Synopsis
Antwerp, early June. On a sweltering Friday afternoon, eight people dream of a different life. There's wind and music, police and paranoia, hints and allegations. There's an ancient virus, a wandering frisbee, a dead horse, and, drifting through town, an enigmatic phenomenon called Windman who feels the pain of everyone but can't seem to help himself. At night, a party welcomes all... Soundtrack features music by Herbie Hancock, Squarepusher, Queens of the Stone Age, Charles Mingus, Yazoo, Magnus and many others.
Trailer
About the director
In 1991, Tom Barman (Antwerp, 1972) enters St-Lukas film school in Brussels. But soon he quits to go on the road with dEUS, the rock band which he founded two years earlier. From 1993 till end 1999, he gave more than 600 concerts with the band, in Europe and North America. They appeared on all the major European festivals (Rock Werchter, Montreux Jazz Festival, PinkPop, Glastonbury, Les Eurockéennes, Roskilde...). Over the years dEUS releases several albums: 'Worst Case Scenario' (1994), 'My Sister = My Clock' (1995), 'In A Bar under the Sea' (1996) and 'The Ideal Crash' (1999). All along Tom Barman stays in touch with his other passion, cinema, for instance by directing rock videos for his band. The video for 'Turnpike', with Seymour Cassel, is selected for the festivals of Villa do Conde, Berlin and Rotterdam, and is presented in European theatres together with 'Trainspotting'. The video of 'Roses' gets the Award for the 'Best Low Budget' (Midem Cannes 1998). Tom Barman also directs videos for The Sands, Axelle Red, Arno and the Opera of Flanders. In 1999, he decides to take a break in order to write and direct his first feature film, 'Any Way The Wind Blows'. The year will be longer than foreseen... In the meanwhile he performs in solo, with Guy Van Nueten at the piano, and with a new band, Magnus (with CJ Bolland and Peter Vermeersch). The first album of Magnus will be released in October 2003. The new, long awaited album of dEUS, is expected for 2004.
Notes
Director Tom Barman and producer Christian Pierre will be available for Q&A after the screening.
Related links